Threading Courses
Our Threading Courses have two different learning options for you to choose from:
Please use the buttons below to switch between the options and see the relevant information for each. Alternatively click on the "compare" button to see the differences in a graphic format.

Comprehensive Threading Courses:
Our threading courses teach you the techniques of threading using two different methods. The threading course will demonstrate the hand method and the mouth method of threading. This threading course covers all facial areas with full demonstrations from an experienced tutor and then allowing you practical time to complete all areas on one another.
Practical Threading Training:
Our threading training courses concentrates on practical, hands on training. Although there are elements of theory which have to be covered, our focus is ensuring you get the very best training.
Industry Recognised:
Our threading courses are fully accredited so you gain industry recognition through our fast (within 48 hours of course completion) certification service and insurance, to be able to work within the industry, through one of our partners.
Whats Included in this Course?
Our online threading courses offer the most comprehensive home learning content and support to ensure you get the very best award winning training. As part of your course you will benefit from all this and more:
Three detailed Anatomy & Physiology, Foundation and Threading course manuals including full step by step guides for the treatment.
Professional online tutorial video's filmed by our Director of Training which are accessible from desktop, mobile or tablet computers.
A dedicated course tutor who has vast industry experience.
A certificate of completion at the end of the course.
REAL SUPPORT which is continual before, during and long after your

course!
Was: £195
&raquo
Book Now
&raquo
Book Now
&raquo
Training Dates
&raquo
Course Info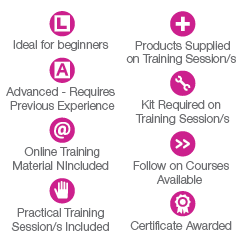 Got a Question?
Call your learning advisor now on:
0203 829 8856
Training Dates
Select Your Location:


Review Centre
Course Dates and Booking
Other Courses which Relate to Threading Courses :