Trending for Spring 2014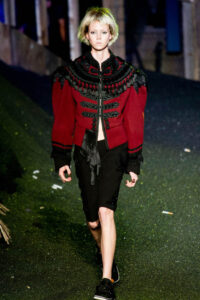 New York Fashion Week is one of the most important events in the fashion calendar. Although it was a few months ago, it only now becomes relevant for the nail and beauty industry with many of the high street fashion retailers beginning to stock spring 2014 styles from mid-January onwards. We've therefore summarised the hottest looks from five of the leading shows at fashion week to allow you to prepare yourself, your stock and your customers for the coming spring trends.
Marc Jacobs
Marc Jacobs' show embraced an apocalyptic version of gothic glamour with a hint of Victorian styling thrown into the mix. The looks included feminine lace blouses with heavily embroidered jackets for an opulent effect whilst a sporty vibe was added for a new age look. To complement this gothic inspired effect, the models wore black or deep, rich red tones on their nails for added drama.
Calvin Klein
Calvin Klein is renowned for sharp yet sexy looks and this season was no different. Sheer materials and panels of fabric were incorporated into the looks for a modernist yet ultra-feminine look whilst the overall style was simple yet chic. The neutral palette of white, cream and grey tones were complemented by near naked nails so think soft peach and pinks for an on-trend, barely-there look.
Ralph Lauren
The Ralph Lauren label began in the 60s and was a major influence on the iconic 60s trends. This season Ralph Lauren stayed true to his roots as his show featured mini skirts and mods galore. The overall colour scheme was the classic black and white of the era whilst formal, uniform inspired cuts were key to the look. Nails to complement this look are monotone whilst geometric nail art designs will be crucial for pulling the retro look together.
Marchesa
Marchesa followed Marc Jacobs' Gothic inspired look with subtle Victorian influences. However Marchesa's approach was softer and more feminine in style with delicate embroidery and embellishment throughout. Dramatic eye make-up completed the catwalk look whilst the blackest of black nails added yet more gothic charm.
Michael Kors
Michael Kors opted for a completely different look altogether for the spring which swayed more towards summer romance than gothic horror. An accumulation of 40s and 70s style with defined, belted waists and ultra flattering lines makes for a much more relaxed yet elegant look. Cropped sweaters were teamed with dainty pencil skirts whilst nails were natural and nude so prepare for an influx of Frenchies.