This summer, there is one trend that is sure to take the world by storm and that is the hair weave. When I first heard about this, I must admit that I did cringe a little as the classic weave is something rather difficult to pull off. Luckily after a little research I found out that there are a number of different weaves that we can wear in order to look hot this summer. Here are a few ideas to get you looking fabulous in time for the beach:
Mini Braids
The weave this season can be interpreted as the mini-braid which is great as it is not only simply to achieve at home or in the salon but also a great way to keep your face off your face when the weather gets hot. One look that is set to be very popular is for dozens of mini braids throughout your hair. This look can be achieved yourself but is probably easier and neater if you get help or visit a salon. Simply divide your hair into as many sections as possible and neatly braid each. At the end, you can choose to tie small elastics or thread beads and tie with cotton for a more bohemian look.
Braids
If you don't want to go down time-consuming mini braid look then instead incorporate the style more subtly by simply braiding certain sections of your hair. Choose a centre parting and then take the two front sections to braid separately for a great hippie inspired look. Alternatively take a section of hair from one side and pull it across the other before doing a French plait for a more sophisticated look.
Dreadlocks
Dreadlocks are uber-cool for the coming summer so if you really want to embrace the trend go for full dreads. They are super easy to look after and most salons are happy to put them in. Include a variety of ribbons, cotton threads and beads for a great look. However remember that dreads will be with you for a lot longer than just the summer so think carefully before going down this route.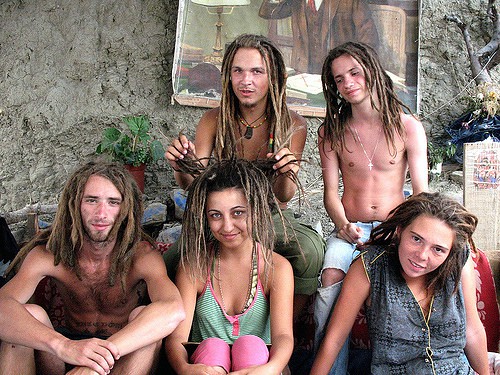 Image Credit: zifunster
Hair Wraps
Hair wraps are another way to achieve the summer trend and luckily are easily removable too. Simply take a small section of hair and wrap with coloured threads in any pattern and combination of your choose. Complete with brightly coloured beads or feathers for a great holiday-inspired look.
So now you know the trends, try them out to make sure you look fabulous in the sun.