After years of being in the nail industry it has become clear that Fibreglass and Silk are often the two systems forgotton about by many nail technicians, although being one of the first nail systems into the industry. Students will attend courses not even knowing or heard of the system. UV Gel and Acrylic systems take the lead with most nail technicians, but the question I ask is why?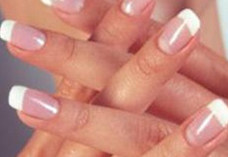 As a working nail technician and educator many of my clients find Silk and Fibreglass more suitable for their nails and prefer the finished result over UV Gel and Acrylic. In this column I aim to give you an overview of both systems and hopefully allow the new and experienced nail technicians to visit or revisit Silk and Fibreglass, bringing back into the nail industry.
What is Silk and Fibreglass
Silk is a natural fine weave material, often used to strengthen and repair the natural nail.
Fibreglass is a synthetic  man made mesh with a lose weave best suited to strengthen nail extensions. Fibreglass is stronger than Silk
Both Silk and Fibreglass create a strong natural looking nail which are flexible and easy to remove.
Benefits
Most flexible of all systems
Creates a thin, natural looking nail
Repairs broken natural nails
Creates a strong nail extension
Can be polished over
Quick application
Quick removal
Products and equipment
In my professional opinion Salon Systems products are one of the best on the market. They are affordable but still create a professional set of nails, that are long lasting and cost effective.
Nail antiseptic spray– prepares the nail for application and removes shine and oil
Resin- Applied over the mesh to secure it in place and makes the mesh invisible
Spray setter- Hardens the resin, should be sprayed after every layer of resin. Important not to be sprayed too close as can cause an exothermic reaction. Spray at a distance of at least 15 cms away from natural nail
Fibreglass/Silk- Mesh applied over nail leaving a small margin of 1mm around cuticle to prevent lifting and allow resin to seal the nail
Stork scissors and tweezers- fine sharp scissors used to cut the mesh and tweezers used to peel the sticky backing off of the mesh
Application
I have put together a Step by Step guide for you to trial, so please read through and give it a go.
Sanitise and wash hands
Prepare natural nail – lightly file surface of nail to remove shine
Push back cuticles
Spray and wipe nail using nail and file antiseptic spray
Apply tips if required
Cut silk/fibreglass to fit the nail, and apply securing onto the nail with the backing. Remembering to leave a 1mm margin around the cuticle
Cut excess mesh off of free edge of nail using the stork scissors
Apply a thin layer of resin, ensuring all mesh is covered and avoiding touching the surrounding cuticle
Wait approx 1 minute and spray with setter at least 15cm's away from nail
Apply a second layer of resin
Spray setter
Repeat steps 10 and 11
Lightly file surface of nail, to smooth and file free edge to shape
Spray and wipe with antiseptic spray
Apply a UV top coat to seal and add shine. Cure for 2 minutes under a UV lamp
Finish with some hand cream and nail oil
Tips for application
To ensure you create a set of professional nails that your client is expecting, here are some helpful hints and tips
Keep all lids on products
Wipe the resin bottle top before and after use to prevent blockage
Store mesh in a sealed bag or box away from the rest of the products
Avoid touching the mesh when applying to the nail as this can place oils and dirt onto the fabric which can lead to lifting
Always leave a 1mm margin around the cuticle edge to prevent lifting
Do not spray the setter too close as can cause an exothermic reaction
Only cut the mesh with the stork scissors to prevent fraying of the mesh
Apply enough resin to cover the mesh
Aftercare
Aftercare is essential for all nail systems, however often something that is forgotten by many nail technicians. If the aftercare is not given this can result in the nails not lasting the full 2 weeks for infills.
Cuticle oil should be applied daily
Wear protective gloves when cleaning, washing up or gardening
Do not use the nails as tools treat them as jewels
Always apply base coat before polishing to prevent staining
Remove polish with a non acetone remover
Avoid filing the nails, leave to the professional
Push back cuticles once a week
Rebook for infills every 2 weeks
Silk and Fibreglass should be a system that all nail technicians should offer alongside UV Gel and Acrylic. This enables the technician to provide a range of nails that can meet the need of every client.
Remember to become a professional nail technician it is about keeping all skills up to date and attending refresher courses to maintain continual professional development.
I hope that many of you will try the Silk and Fibreglass system using the step by step guide above, good luck and any further questions or feedback please email me on info@nextstepbeauty.co.uk
—
Fibreglass and Silk nails are part of the Complete Nail Technicians Course in the following locations:
Complete Nail Technicians Course Norwich
Complete Nail Technicians Course London
Complete Nail Technicians Course Manchester
Complete Nail Technicians Course Birmingham