When you first qualify as a nail technician, you will probably want to get a job within the industry, offering your newly acquired skills to clients. There are two ways you can do this, by setting out on your own as a mobile nail technician or by gaining a job in a salon. Setting up your own business might seem like a daunting venture, especially if you don't yet have any experience. However finding a job in a salon isn't necessarily an easy process either so here we take a look at three ways to find a job in a beauty salon.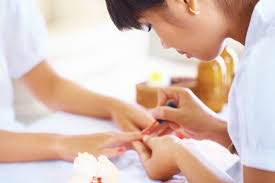 Job Advertisements
The most obvious way of finding a job within a salon would be to look in the local paper as many salons opt for this type of local advertising. Another option is to look for a job online via a job search website. There are a wide variety of job websites but you'll have more luck if you look on specialist beauty websites. Here salons will advise details of any vacancies along with what the role entails and a salary expectation. Once you find a suitable job, apply with your CV or resume and a covering letter detailing your desire to work in the salon.
Networking
Networking is another great way of finding a job within a beauty salon. Networking is a relatively new form of socialising and most towns and cities will have a beauty or nail specific networking group. In these groups, local businesses and nail technicians will come together to share experience and ideas in a wide range of subjects. By talking to people from local salons at such events, you are likely to hear about new vacancies prior to them actually being advertised – plus you're in the unique position of meeting the salon owners in person before the official interview.
Prospecting
Prospecting is another form of job hunting which is slightly more traditional. This involves going into salons and leaving your CV or portfolio with the staff. Hopefully if a job opportunity comes up, they will refer to your prospective application and contact you. Again this can be a great way of finding out about jobs prior to them being advertised.
Whichever route you go down, make sure your CV and portfolio really stands out from the crowd and that you're clean and presentable at all times.