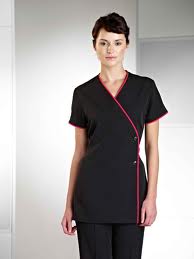 Image is everything in the world of fashion and beauty. Although most people don't like to admit it, most take you at face value – judging your character by your appearance. A potential customer will not only be judging your salon by the look and feel or it and by the services on offer but also on how you look. It's therefore really important to make sure that you give the right impression. Here we take a look at some of the elements you might need to be aware of:
Clothing
Our clothing says a lot about us as individuals. However in a salon environment, you ideally want your clothing to say 'professional', 'stylish' and 'sophisticated'. With ever-changing styles and your own personal flair, this can be a difficult thing to do. It can however be achieved by wearing a uniform. This certainly gets the 'professional' message across whilst also removes the trend element of your clothing choice as most salon uniforms are timeless in design. If you decide a uniform isn't for you, choose something classic and simple. A timeless black colour scheme works well whilst you can incorporate a flash of colour to complement the black if you wish too. Combinations like black and red, black and pink and black and teal work especially well in a salon environment.
Make Up
You will be judged on more than just your clothing, potential customers will judge you on your make up too. To convey the 'sophisticated' message you are trying to get across to customers, it's  important that you keep your make up simple and timeless in style. Opt for a light foundation and concealer for a more natural look and stick to brown shades for that barely there finish. A dash of more vibrant lipstick can make the look a little more up to date.
Hair
Finally how you wear your hair is very important when trying to achieve the right look. Long hair should be tied back from the face for a professional look whilst shorter hair should be well kept and styled. Again classic hairstyles like French plaits, bobs and fringes in natural shades will give you that air of professionalism and sophistication that you're trying to achieve.
If you get the look and feel of your salon right, and your look right, potential customers are more likely to walk in the door and book an appointment with you.