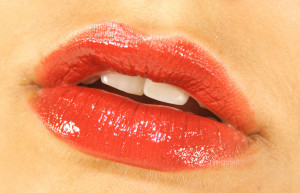 How many times do you finish your make up with a lip stick or gloss and wish your lips looked luscious every time?! The lips are always exposed, leading to dehydration, dry cracking, they can even be so sore they slit or bleed, especially in cold months. To avoid this and to have gorgeous lips every day here are a few tips you can follow easily.
Hydrate- Start from the inside to help the outside, drink plenty of water, always carry a bottle with you to stay hydrated- you may even notice your skin looks better.
Exfoliate- We constantly are told to exfoliate your body and face but pay attention to your lips. Get a dry toothbrush and gentle brush over your lips, this will help remove dead skin cells and any dry flaky areas. Do this on a regular basis to ensure any product you use on your lips, don't just sit on top of dead skin cells.
Licking- licking your lips may soothe the lips and feel beneficial to sore areas, however saliva contains enzymes that can make down your lips natural protective barrier, making them drier and prone to crack or split.
Moisturise- Apply regularly balms to hydrate and moisturise the lips. Look for lip balms that contain beeswax, shea butter, vitamin E and jojoba oil, as they will moisturise and soften the lips. When applying your day or night cream cover the lips as well, and then think Vaseline to help seal the products in.
Protect- A lip balm with spf is your new friend for perfect lips. Any people often forget to use a protect sun block or spf balm on their lips but it's so important, as the lips lacks melanin making them likely to burn, crack and peel. Apply a layer of spf lip balm daily to protect them or use a lip stick like Yves Saint Laurent Rouge Pur Couture Lipstick SPF15, that comes in a range of colours from £22.
Matte- Matte lipsticks look fab and last for ages but they can be drying on your lips. Mix it up a bit from your usual lip colour and a balm; alternately apply a lip balm as a base for your matte lip colour to prevent the lips hydrating.