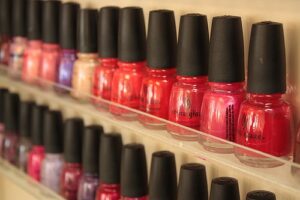 One of the key nail trends for this season is bold, plain colour with the popular colours of choice being purple, pink and red. However red nails are notoriously hard to make look good for a number of reasons. Red nail varnish comes in a wide range of shades, ranging from bright pillar box red through to a deep burgundy. Although darker shades are much more subtle, a bright shade of red is more eye-catching, however it can look tacky if worn in the wrong way too. Unfortunately it is this bright red shade that will create the hottest look for summer. Here are a few ways that you can choose to wear red nail polish, without it looking silly.
Look #1: Colour Combinations
Luckily one of the fashion trends for the season is heavy tropical prints and one of the core colours in these patterns tends to be red. This provides the perfect opportunity to show off your red nail polish without it looking too severe. Team your gleaming talons with a colourful skirt or maxi dress for a great summer look.
Look #2: A Vibrant Hit of Colour
Another great way to show off your red nail polish is to team it with black for a relaxed occasion such as a family birthday or a summer BBQ. Keep your look simple by wearing a black linen dress or wide legged trousers. Your red nails will add that all important splash of colour that helps to add a touch of glamour to your look.
Look #3: Crackle Effect
One way to tone down the brightness of red nail polish is to layer it with another varnish and this season crackle glaze or mosaic effect nail polishes are all the rage. Simply paint your nails red and then apply either a white or black crackle glaze over the top. As it dries the top coat  cracks to reveal the red beneath. This creates a fabulous look and is a great way to wear your favourite red polish in a new and exciting way.
Look #4: Matching Lipstick
To go with the bright red nail trend this summer, it would appear that bright red lips are in too. For some reason teaming the two high impact looks together somehow cancels them out, allowing you to wear both without looking tacky.
So what are you waiting for? Grab yourself a bottle of red nail polish and start experimenting, but remember that it can stain your nails so always apply a base coat to your nails before applying the colour.