Silk Nail Courses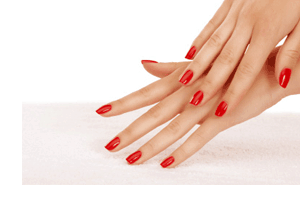 Our combined and fully accredited silk nail courses are perfect to complete after qualifying in manicure or as part of the complete nail technician course offering a blend of practical training and home learning to give you the very best of both worlds! If you want to learn the art of apply, maintaining and removing silk nail extensions then this course is perfect for you. This fiberglass and silk nail extensions course will give you the ability to start your own business or find employment in a salon or nail bar.
What's great about fiberglass and silk nails?
Fiberglass and silk nails can be used to strengthen and repair the natural nail allowing clients to grow and maintain their nails with or without tips. Silk nails offer a very natural look and clients love the light weight feel of them. Completing this silk extension course will enable you to work within a salon or launch your own business and start earning money!
This silk and fiberglass course includes a full foundation module giving you tuition on health and safety, business skills, marketing and promotion as well as Anatomy and Physiology at no extra costs! It also includes full training in nail maintenance, in-fills and the safe removal of nail extensions so there is no need for expensive follow on courses SAVING YOU £300+
Our award winning silk courses offer the most comprehensive course structure giving students everything they need to offer competent nail services to clients. Our course structure combines both distance learning and practical training allowing you to work at your own pace and around other duties. Our unique online student portal, which is accessible as soon as you purchase your course, provides full demonstration video's, course manuals and our student support system allowing you to start learning straight away! You then attend the practical training day to further enforce what your have already learnt and spend time with your tutor who will guide you before attending a review day typically 4 – 8 weeks after the practical training to gain your qualification which is fully accredited by leading industry organisations.
Students who wish to complete the silk nail course must have a recognised manicure qualification before attending the practical training which is suitable for both beginners or for existing nail technicians simply just wanting to update their skills and knowledge. If you do not already have a manicure qualification this can be completed the same week but it is essential you know the basics prior to learning the more advanced silk nail extension system.
Within a few weeks you could be a qualified technician and earning money by offering silk and fiberglass nail extension treatments simply by booking this accredited course. Our silk courses start right from the basic allowing anyone to learn, qualify and begin their next step into the industry or for qualified technicians this course can be used as a refresher.
Next Step Beauty is not affiliated with any product brand and we teach you the general application of the fiberglass and silk system. We are therefore able to impartially advice you on the best products and brands in the industry allowing you to make up your own mind which products and equipment you want to work with and what ones will suit your clients the best. During your practical training and review days, all products and equipment will be supplied for your use so there is no need to purchase a kit.
Why Join The Nail Industry?

Earn up to £25 per hour as a qualified therapist (that's a potential earning of £1000 a week!)
The nail industry has continued to grow over the past few years with more woman having nail treatments on a regular basis. Completing our silk course is a great way to build a residual business as clients return every 3 – 4 weeks for their nail treatments. There are 340 million client visits across the nail industry each year (six per person per year), with the average household spend on nail services of £161, start learning to start earning!
Check out our silk course reviews below to see why we are the UK's leading course provider and winner of the 2014 Guild Awards!
BUY YOUR FIBERGLASS AND SILK COURSES TODAY and get instant access to online course material including full detailed gel course manual, foundation manual, Anatomy & Physiology manual as well as online tutorial videos and much more! Why Wait? Start learning TODAY!
Find out more about our silk courses, click on the tabs below:
[tab:Whats Included]
Silk Nail Courses – Whats Included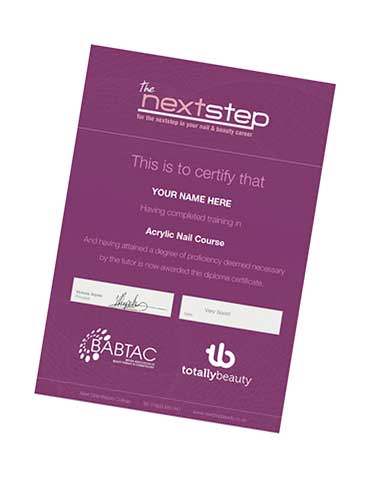 Our silk courses offer the most comprehensive content. This unique course includes:
Detailed, step by step, fiberglass and silk course manual (as well as a foundation and Anatomy & Physiology manual) and access to your online manual TODAY
Full online tutorial video's accessible from desktop, mobile or tablet computers. Simply purchase the course and get instant access TODAY!
A full practical training day with an experienced industry tutor who has teaching qualification and industry experience. Choose from one of our over 30 nationwide locations!
All products and equipment provided for you whilst on your practical training and review day!
A review day, 4 to 8 weeks after your practical training allowing you to discuss any support issues with your tutor and gain accreditation!
A FULLY ACCREDITED silk course certificate and qualification allowing you to gain insurance to work on the paying public. Get your certificate on successful completion!
REAL SUPPORT which is continual before, during and long after your course!
[tab:Course Overview]
Silk Nail Course Overview
We believe in continually supporting our students before, during and after each nail course. We have invested heavily in a unique infrastructure which allows us to support students long after they have completed our nail courses and are pleased to be the Next Step in our student careers.
During the practical training day you will work with the college training stock, equipment and products so no kit is required to attend however we do recommend you purchase a starter kit from us for home study. You can purchase a kit at anytime either online or by contacting us.
Whilst on our nail courses, all students work on one another as we believe it is important to not only carry out the treatment but also to experience the treatment yourself, so we ask all students to attend our nail courses with no nail extensions on or nail polish.
A detailed course manual will also be provided through your student portal which you can download, print and make notes on during the nail course, if theory and written work is not your strong point then do not panic as this manual will provide you with everything you need to know. We are there to support you during your training so if additional support is needed please let us know.
On completion of one of our nail courses, you will be able to begin working in the industry straight away either setting up your own business or working for someone else.
Our nail courses give you a recognised qualification so you are able to work as a professional technician within the industry, gaining your public liability insurance and working on the paying public.
Structure of the Silk Nail Course Practical Days:
Theory and practical training on nail extensions (1 Day 9am – 3pm)
Review day (4 – 8 weeks after Day 1 9am – 3pm)
[tab:Course Content]
Silk Nail Courses Content
Our silk extension course offers the following content which is fully accredited allowing you to gain industry insurance on completion.
Foundation:
Personal Standards and Practice
Hygiene – Cross Infection & Contamination
Effective Communication with Clients
Business Promotion
Preparation of the Work Area
Health & Safety Legislation
Insurance
Maintaining Effectiveness at Work
Promoting Products & Services
Retail Specific Legislation
Reception Duties
Taking Payments & Methods
Anatomy & Physiology (nails):
Structure of the Nail
Bones & the Muscular System
Skin Types & Skin Structure
The Lymphatic System
Tip Application:
Nail Tip Preparation
Tip Application
Fiberglass and Silk:
Skin Diseases & Disorders
Nail Diseases
Nail Disorders
Preparation & Products
Fiberglass & Silk Application
Maintenance, Infills & Removals
Aftercare
[tab:Entry Requirements]
Silk Nail Courses Entry Requirements
You are required to hold a recognised manicure certificate to attend the course however no previous experience or knowledge about silk nails is required.
Please note if you do not hold a manicure certificate you can complete this with us on the same week as your silk course however without it you will not be able to gain insurance.
[tab:Qualification & Insurance]
Silk Nail Courses Qualification
Our courses are FULLY ACCREDITED so on successfully completion of the course you will be awarded with the Next Step Beauty Diploma which enables you to obtain insurance.
Silk Nail Courses Insurance
Our nail courses are fully accredited with leading industry organisation. On successful completion of the course a Next Step Beauty Diploma certificate will be issued and a photocopy of this will be required by the insurance company to process your application of insurance. We have partnered with leading insurance companies to offer you comprehensive insurance. For more information about nail insurance click on the insurance button at the bottom of the page.
[tab:END]
Online Silk Courses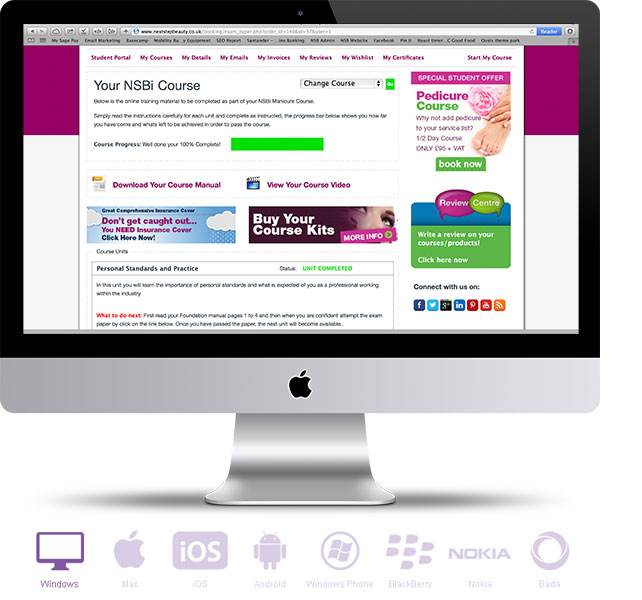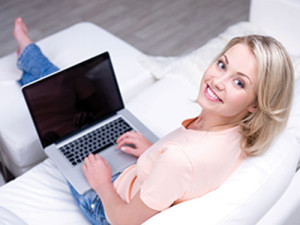 Are our Courses the right choice for you?
Do you want to complete a course but need to learn from home? Do you want to start a new career but can't take time off work or from your busy schedule to attend practical training and need a solution that allows you to complete your learning from home, at your own pace and in your own time? Would you like to work for yourself or in a salon fitting work around your family life?
If so this unique online silk course is just perfect for you! Designed by industry experts, our interactive online silk nail course gives you all the theory and practical skills required to competently offer silk nail treatments to paying clients allowing you to start making money in a matter of weeks!
As part of the course you will have full access to award winning detailed course materials including your specially designed course manuals which include full step by step guides, demonstration tutorial videos filmed professionally by our Director of Training as well as workbooks, downloads and much more…
This silk course includes a full foundation module giving you tuition on health and safety, business skills, marketing and promotion as well as Anatomy and Physiology at no extra costs! It also includes full training in nail maintenance, in-fills and the safe removal of nail extensions so there is no need for expensive follow on courses SAVING YOU £300+

How Our Online silk Courses Work: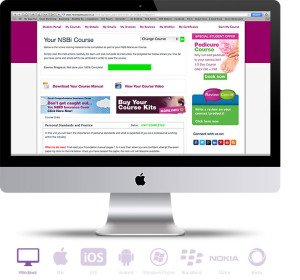 Getting started could not be easier! Once you purchase your course you will gain instant access to our unique students portal and all of your course materials. Guiding you through each unit of the course, we will ensure you fully understand the fundamentals of each section and present you with detailed course notes, step by step guides and tutorial videos to demonstrate exactly how to complete each section learning as you go along.
At all times your dedicated course tutor will be on hand for any questions you may have so you are never on your own. Once ready, you complete a short multiple choice question paper before uploading your evidence for review. Your tutor will assess your work and provide guidance and advice on perfecting your skills and work with you to gaining certification.
Full Support with Every Online silk Course:
You will be provided with award winning course materials designed to provide you with everything required to complete our comprehensive online silk course. At anytime you will have access to your course tutor by email or phone for all the advice you may need – we will support you all the way!
Online silk Course Demonstration:
We have invested heavily in our course materials to ensure you get the very best and most comprehensive online silk training. Below you will see a short clip from our online silk course tutorials and although the clip is short it will allow you to see the quality of the training which we provide. We also welcome you to read our course reviews to see what other students experienced during our training.
Title:

Silk Course

Price:

£75.00 + VAT

Qualification:
NSBi Award

(All modules, units and examinations are completed online with full online support available to you. On completion of the course, successful students will receive a NSBi certificate in silk Course. Student who wish to gain full accreditation are required to attend a 1/2 day assessment at one of our national training centres)

Pre-requisites:

You are required to already hold a manicure certificate to complete this course

Course Hours:

12 Hours

(This is a guide only and can be completed at your own pace)
Please note that the number of hours required to complete this online silk course as stated are a guideline only. The number of hours will depend on the speed at which you learn.