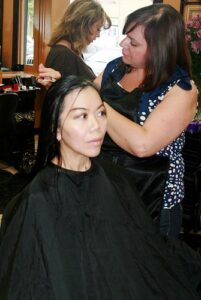 When it comes to looking good, a lot of people think they need to spend loads of money on special treatments, expensive lotions and go to a salon every week. However this is not the case at all. There are plenty of ways to achieve a beautiful look on a tight budget – here are some tips to get you started.
Cut Price Cut
If you're looking to get your hair cut on a budget, there are a number of ways you can do this. The first is to book into your local salon but ask for a junior stylist instead of your usual one. Junior stylists are often cheaper than other stylists in a salon as they have less experience. As an added bonus, they are generally easier to book appointments with too as they cater for fewer clients. The second option for getting a cheap hair cut is to contact your local hair training salon or college and ask them if they are looking for hair models. This will involve getting your hair cut by trainees. You can sometimes het reduced hair colours using these methods too.
Sample Cosmetics
If you visit a department store like Debenhams, John Lewis or even Boots, you will find different stands for the different cosmetic brands. Most of these stands offer luxury cosmetic brands like Clarins, Clinique and Elizabeth Arden which might be out of your budget. However if you approach one of these counters and talk to the staff about wanting to try some of the products, they will often give you some trial sized tubes or bottles to take home with you.
Make-Over
If you want to have amazing make-up for a night on the town or special occasion but don't have many products in your make-up bag, you can try visiting a department store make up counter. Some will offer to do a whole make over on you which includes everything from foundation to eye shadow, blusher and lip stick. Although they do this in the hope that you will buy their products, there is no obligation to do so and you can also pick up some handy application tips at the same time.
Reduced Price Fragrance
Eau de Toilette and perfumes are quite expensive these days, especially if you want one of the more luxurious brands. Many people rely on duty free to buy their fragrances but even this doesn't offer much of a discount if you're only travelling within the EU. Instead, take a look at discount fragrance websites such as fragrancemad.com. They not only offer reduced price fragrances but also tester bottles. These are full sized bottles that were designed to be used by retailers to allow customers to test the fragrances, however they were never used. They often come in bottles without the additional packaging but the same high quality fragrance is in the bottle, allowing you to get them at a fabulous discounted price.
By following these top tips, it's just as easy to look (and smell) amazing without spending a fortune.