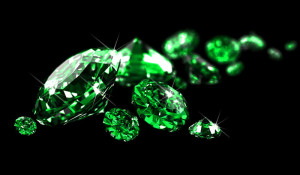 Fashion doesn't just change rapidly in the world of clothing, it changes quickly in the world of beauty too. As the autumn closes in and winter seems closer than ever, it's time to turn your back on the summer and look towards this season's latest beauty trends. Here are just five of the trends that you need to know about this autumn.
Trend #1: Green with Envy
The colour of the autumn is green. It's a much deeper, more vibrant green than the pastel and lime tones of last spring. This season it's all about emerald green and beauty brand Sephora have released a limited edition make up range to celebrate. Opt for French inspired 'vert' green eyeliner or intense emerald nail polish for a fashionable look.
Trend #2: A Trip to the Bar Doesn't Have to Involve Alcohol
It would appear that nail bars are trendier than ever and are not only a place to get that all important beauty treatment like a facial or manicure, but also a place to meet friends. Clients want to pop-in when convenient so booking appointments is definitely a hassle. Instead they are looking for a quick pedicure on their way home or a blow dry and style before a night on the town.
Trend #3: Romantic or Roaring, You Decide
The look of the season is inspired by the 1920s and there are two distinct ways to wear the trend. The romantic look is soft and all about naïve looks – think soft curls and nude shades of lipstick. The roaring look is more dramatic with tightly pinned hair styles and deep red toned nails for that iconic flapper look.
Trend #4: Simple, Subtle Sweetness
When it comes to choosing a fragrance for the autumn, move away from summery floral fragrances and instead look for a more subdued scent. Think lavender, clove and other fragrances with warm undertones instead of heady musk.
Trend #5: Beauty Enhancing Fabrics
So we've all heard of stomach sucking shapewear and other figure enhancing clothing but this season we see a real beauty first – beauty enhancing jeans. Infamous brand Wrangler have developed these little denim beauties which combine anti-cellulite and circulation boosting technology with aloe vera and olive extracts. Beautiful skin and stunning legs by simply wearing clothes – ingenious.