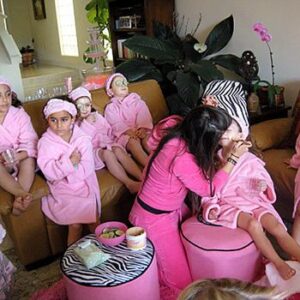 Over the last couple of years, there has been a rising trend in the number of under 16 year olds who have been attending nail bars and other beauty salons. Although many of these get their hair and nails done for a special occasion like a party, there are a rising number of even younger children who are opting to have beauty themed birthday parties. With wide spread media coverage and controversy makes this a topical issue for salons, nail bars and mobile beauty therapists so do you cash in on this rising trend or choose to stay away?
Profits
Beauty themed birthday parties open a whole new target market for salon therapists. With groups of around eight to ten young children requiring anything from hair styling to manicures, pedicures and in some cases spray tanning, there is the potential to earn a lot of money in a short period of time. As well as beauty treatments, party packages usually include goodie bags for the guests too with miniature nail colours, hair clips and other accessories included – all usually organised by the therapist at the expense of the parent, a with mark up of course. With children deploying 'pester power' on their parents to 'keep up' with their friends, most therapists end up with additional party bookings after the initial one to make this a highly profitable service to offer.
Controversy
Some members of the public don't agree with beauty parties aimed at young children. They argue that these children are too young to be given beauty treatments and that they should be playing games and enjoying their childhood instead of doing grown-up activities before their time. They believe that by offering these treatments to children, therapists are encouraging traits such a vanity and an over-emphasis on appearance. Due to the controversy, it is possible that by offering beauty parties for children's birthday's you might end up alienating your regular clients who don't agree with this rising trend.
You need to think long and hard about whether you wish to offer this service – increasing your market and your potential profits, and the knowck-on effects it might have on the rest of your business – possibly losing your existing clients and putting off new adult clients. The choice is yours.
What do you think? Comment on the post below and share your views