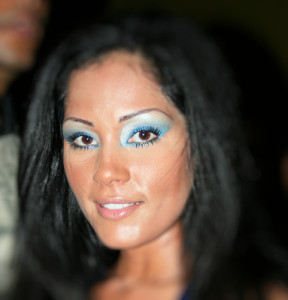 Most girls first start to gain an interest in make-up from around puberty. This usually starts are trying on your mum's lipstick or getting your first eye-shadow palette. This make-up obsession then grows to include a whole array of other cosmetics including mascara, eye-liner, blusher, lip gloss and much, much more. We might watch our mothers put on make-up and then practise with our friends. It all seems fine and dandy until you wake up one morning perhaps in your late-twenties or mid-thirties and suddenly realise that you're still using the same types of beauty products and brands, in the same way as you have been for years. Unfortunately as we get older our faces change, styles move on and you could end up making yourself look out-dated instead of enhancing your natural beauty. It's therefore time to take stock of what products you are using and how and make some changes to your beauty regime. Here are just a few changes that you may need to make:
1)      Moisturiser – hopefully you will have discovered the advantages of using daily moisturisers a long time ago but if not, you need to start using them now. Healthy skin is hydrated skin so choosing the right one for your skin type is vital. Skin types change throughout your lifetime so you need to check that the one you are using is suitable for your current skin type, not the type of skin you had as a teenager. You might want to try a moisturiser which includes come form of anti-wrinkle protection as you get older.
2)      Eye-shadow – sorry 80s fans but blue eye-shadow has been out of fashion for a while and unless you strut your stuff on the catwalks, you need to throw it out now. The same goes for blue eye-liner and blue mascara. Definitely not a good look so swap for more neutral brown tones to get a more sophisticated, timeless look.
3)      Lip colour – as you get older, fine lines start to appear around your lips which can cause lipstick to bleed. This isn't a great look. Try using a lip pencil to create an outline around your lips before applying lip colour to prevent the aged, running look.
4)      Blusher – blusher is a little out-dated and can cause a fake look. Instead try out some illuminating face beads which offer a softer, more natural look instead.
If you're not sure what suits you or what is fashionable, take a trip to your local beauty salon and talk to the sales consultants. You'll be surprised at how helpful they can be.