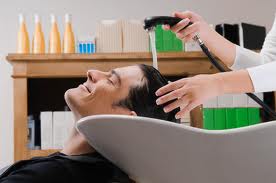 In a recent study, a number of men and women in the UK were asked to share how much they spend on beauty products and beauty treatments each month and the results were surprising even to those within the beauty industry. Traditionally a women's industry, the beauty industry has acknowledged a significant rise in the number of male clients frequenting beauty salons and purchasing beauty related products but no one was really prepared for the results of this latest study.
The study revealed that women spend around £200 per month on beauty treatments and related products (slightly up on the figures of the last survey) whilst the figure for men came in at an average monthly spend of £146 which is significantly above the results of the previous survey.
As well as spending behaviour, the respondents were also asked about the types of treatments and products that they are buying on a regular basis. The female respondents seemed to spend their money on anything from facials to manicures, massages to anti-aging creams. Men on the other hand were more focused on what they were buying on a regular basis. Among the top results were post-shaving balms, deodorants and fragrances and hair styling products. However a reasonable proportion also stated that they attended nail salons for manicures for special occasions, especially for their own wedding or one that they were to be a best man for.
With such an increase in the spend of men related to beauty products and treatments, is it time to consider them within your business plan as a way to boost your earnings?