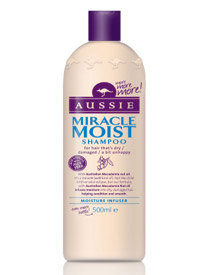 If you suffer from frizzy dull hair like me then you need to try the Aussie range of shampoos and conditioners. There are different types to choose from but I thought I would share with you the ones that I have been using and am now totally hooked too…
If your hair is like mine and lacks shine and moisture then honestly give this ago, I've tried several different brands and different hair masks etc in the past but never really found anything that I genuinely saw good result from….This is a different story, I also use a conditioner and I use a hair dryer and straighteners on my hair pretty much every day (I know this causes the damage and frizz but if I didn't use them my hair would be a big fuzzy mess) so I decided to go for the heat protecting conditioner called 'take the heat' and as Aussie themselves say its like your hair getting a hug from a bottle!!
I have been using both for a few weeks now and I can see the difference so much, the shampoo and conditioner both smell amazing and leaves your hair feeling like you have had your hair shampooed at the hairdressers, its easy to brush when wet and makes styling the hair so much easier. Like I said I have to blow dry my hair and it usually ends up so fluffy and frizzy It takes ages to style, however that has now changed since using these products its taken so much time off for me, my hair feels smoother and a lot easier to work with, I don't have so many fly away strands and my hair is looking a lot healthier, I'm not saying that my hair is now perfect as it is a long way off that BUT my hair has become noticeably shinier and generally healthier looking.
I would honestly recommend any of you that do suffer with 'the frizz' to go give this a try, it may not work for everyone but you have nothing to loose, I love love love these products and there is such a wide range to choose from to suit all types of hair, and you cant go wrong with the heat protector ones as its just an extra barrier to save your hair from getting frazzled form using your styling tools!! I hope you enjoy them as much as do. I've also got a free sample of the miracle shine which I got in my Cosmopolitan magazine and I cant wait to give it a try…