Rock Goddess Nail Polish by OPI
I purchased these rock inspired nail varnishes by OPI about 3 weeks ago and having been using them since.  The set includes 4 miniature nail polishes and a skull bracelet but to be honest I could take or leave the bracelet.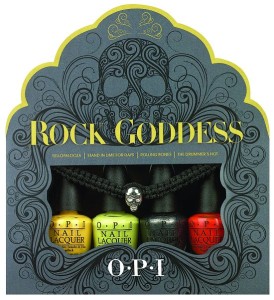 The 4 colours included in the set are:
Yellopalooza – bright yellow polish – whilst the colour in the bottle is very solid; I did find that the application of the polish was quite thin.  I had to apply base coat, four coats of the polish and a top coat to achieve a solid look on the nails.  If I had not applied 4 coats then the nails would have looked streaky.  The overall finish though was great – what a bright, happy colour nail polish.
Stand In Lime For Days – lime green polish – the application was much the same as Yellopalooza – very streaky with a couple of coats and the more coats you add the more solid the colour on the nail.  I am not sure whether I would use this colour again.
Rolling Bones – a platinum metallic shimmer – this was by far my favourite colour of the set.  This only needed 3 coats of polish to get a solid look.  I had lots of people comment on the colour of this polish, I guess because it is a slightly different metallic shimmer.  The only downside to it was it took ages to remove  and the glitter parts of the polish seemed to stick to everything.
The Drummer Is Hot – bright orange/red – this colour is fantastic and would be great in both summer and winter months.  I tested this one out on my daughter and she loved it.  This polish only required 2 coats of the colour polish to achieve a solid colour on the nail.
I am an OPI lover and have loads of bottles and I find that the application of the full size polishes on the nail do not streak.  Perhaps the issue of streaking with the polishes above is due to the brush size in the miniatures being considerably smaller then the full size brushes.
However this has not put me off and I would love it if OPI brings out a full size bottle of Rolling Bones and The Drummer IS Hot – they would definitely be a purchase I would make.