A Guide to Fashionable Summer Sunglasses
A Guide to Fashionable Summer Sunglasses
When it comes to summer, there is one fashion accessory which you simply can't do without – sunglasses. Not only do they offer your eyes protection from harmful UV rays and bright glares, but they also create a style statement, whether you're looking to make one or not. In this guide I share with you some top tips for selecting a fashionable pair of sunglasses for the coming summer season.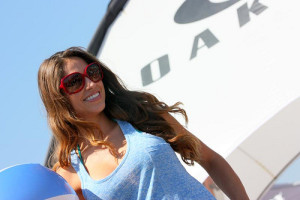 Shape
This season, the hottest shape when it comes to sunglasses is a rounded design. Ideal for creating a feminine look, the rounded style is reminiscent of 1950s glamour which plays a major part not only in the accessories arena this year but in the fashion stakes too. To achieve a fabulous look, choose a large, rounded shape which goes up to your mid-forehead and down to your cheeks.
Colour
Sunglasses comes in a wide range of styles and colours but for this season, making a bold style statement is vital. Look for sunglasses with chunky acetate or plastic frames. Eye-catching in-trend colours for this summer include red, orange and bright purple whilst multi-tonal shades teamed with ivory and beige hues create a softer look.
Lenses
You need to choose a pair of sunglasses which not only offer a high level of UV protection, but that also prevent glare. Polarised lenses are ideal for achieving this, even when looking at water in bright sunlight. When it comes to a fashionable look, opt for neutral brown or grey toned lenses instead of darker black toned lenses. Mirrored lenses are definitely not the look to go for this season so don't compromise on style by wearing last years sunglasses.
Embellishments
There are two key trends when it comes to sunglass embellishments this season – chain detailing and sparkle. For a hot look, choose a pair of sunglasses with chain detailing to the arms. These are ideal for both every day wear and beach wear. The other emerging trend this year are sunglasses which have been adorned with crystals. Swarovski have a beautiful range in their summer 2013 collection whilst a number of other brands have also incorporated a dusting of sparkle onto their latest styles too. Crystal embellished sunglasses are ideal for more glamorous occasions such as al fresco cocktail parties, a sophisticated lunch with the girls or a summer wedding.
By following the key trends above, you're sure to find a wonderful pair of sunglasses which will give you a great new look for the summer months.