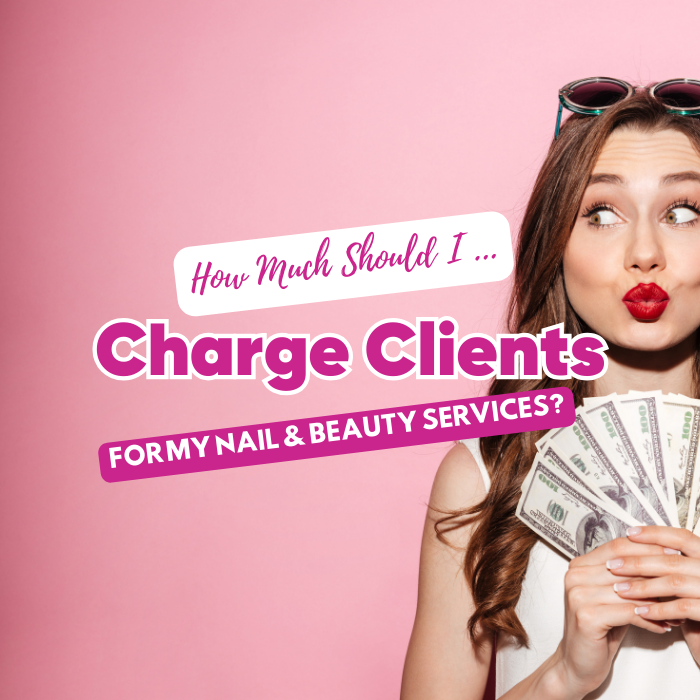 Know Your Costs:
To establish a solid foundation for pricing, it's important to understand your costs. Consider expenses such as rent, utilities, product supplies, equipment, marketing, and any licensing or insurance fees. Calculate your overhead costs and factor them into your pricing to ensure you're covering all your expenses while still generating a profit.
Research the Market:
Conduct thorough market research to understand what your competitors are charging for similar services in your area. Look at businesses of similar size and offerings, and compare their pricing structures. While you don't want to underprice yourself, it's essential to remain competitive within the market. Average UK prices for some of the most common nail and beauty treatments are included towards the bottom of this guide.
Evaluate Your Expertise and Experience:
Your level of expertise and experience should be reflected in your pricing. Consider your qualifications, certifications, years of experience, and any specialized training you've received. Clients often associate higher prices with a higher level of skill and expertise, so be sure to highlight your qualifications when justifying your rates.
Consider Your Target Audience:
Understanding your target audience is crucial in determining your pricing strategy. Consider factors such as the demographics, income levels, and preferences of your ideal clients. Are you targeting a high-end clientele willing to pay a premium for luxury services? Or are you focusing on a more budget-conscious market? Tailor your prices to align with your target audience's expectations and financial capabilities.
Pricing Structure:
Decide on a pricing structure that works best for your business. You may choose to charge by the hour, by service, or have a tiered pricing system based on the complexity or time required for each treatment. Experiment with different pricing models and assess which one generates the most profit while remaining appealing to your clients.
Value-Added Services:
Consider offering value-added services or packages to differentiate yourself from the competition. These can include additional treatments, exclusive products, loyalty programs, or personalized consultations. By offering unique experiences and benefits, you can justify higher prices and build stronger client relationships.
Regularly Review and Adjust:
Pricing is not set in stone. Regularly review your pricing structure and monitor its effectiveness. Keep track of your expenses, customer feedback, industry trends, and changes in the market. If necessary, adjust your prices to maintain profitability and competitiveness.
Communicate Your Pricing Clearly:
Be transparent with your clients about your pricing. Display your prices on your website, social media, or salon menu. Avoid surprises or confusion by communicating any additional charges or fees upfront.
Value-Driven Marketing:
When marketing your services, emphasize the value and benefits your clients will receive. Highlight the expertise of your team, the quality of your products, and the exceptional customer experience you provide. By focusing on the value you offer, clients will be more willing to pay higher prices for your services.
Customer Satisfaction:
While pricing is important, exceptional customer service and client satisfaction should never be overlooked. Ensure that your services consistently meet or exceed client expectations. Happy and satisfied clients are more likely to be willing to pay higher prices for quality work.
Average UK Prices For Nail Services:
Basic Manicure (£20 - £30): This usually includes nail shaping, cuticle care, hand massage, and polish application.

Basic Pedicure (£25 - £35): Similar to a basic manicure, a pedicure includes nail shaping, cuticle care, foot massage, and polish application.

Gel Manicure (£25 - £40): Gel polish tends to last longer than regular polish and is cured under UV or LED light.

Gel Pedicure (£30 - £45): Gel polish for the toenails, offering a longer-lasting pedicure.

Acrylic Nails - Full Set (£30 - £50): Acrylic nails involve applying a mixture of liquid monomer and powder polymer to the natural nail.

Acrylic Refill - Infill (£20 - £35): Maintenance for acrylic nails is typically required every 2-3 weeks as the natural nails grow.

Nail Art - Per Nail (£5 - £20): The cost of nail art can vary widely based on complexity and the time required.

Nail Extensions - Full Set (£40 - £60): This involves adding length to the natural nails using tips or forms.

Nail Extensions Refill - Infill (£25 - £40): Maintenance for nail extensions is typically required every 2-3 weeks.

Sculptured Nails (£50 - £80): This method creates a custom-formed nail extension without the use of tips.
Average UK Prices For Beauty Services:
Facial Treatments:

Basic Facial: £40 - £60
Luxury Facial (with added treatments like masks or peels): £60 - £100

Waxing:

Half Leg Wax: £15 - £25
Full Leg Wax: £25 - £40
Bikini Wax: £15 - £30
Brazilian Wax: £30 - £50
Hollywood Wax: £40 - £60
Underarm Wax: £10 - £20
Lip/Chin Wax: £8 - £15

Eyebrow and Eyelash Treatments:

Eyebrow Waxing/Shaping: £8 - £15
Eyebrow Tinting: £8 - £15
Eyelash Tinting: £10 - £20
Eyelash Extensions (Full Set): £50 - £80
Eyelash Extensions Refill: £25 - £40

Massage:

Swedish Massage (1 hour): £40 - £70
Deep Tissue Massage (1 hour): £50 - £80
Aromatherapy Massage (1 hour): £45 - £75

Spray Tanning:

Full Body Spray Tan: £15 - £30

Microdermabrasion:

Single Session: £40 - £80

Hair Removal (Laser or IPL):

Cost can vary significantly based on the area being treated, ranging from £50 to several hundred pounds per session.
---
The above are approximate prices based on some research we carried out just over a year ago, and they should only be used as an average of the UK Nail & Beauty Industry. It's also common for salons to offer package deals or discounts for combined services. Additionally, prices may be higher in upscale salons or central city locations. Always check with local salons for their specific pricing and any promotions they may be offering.
Pricing your nail and beauty services is a balancing act between covering costs, remaining competitive, and reflecting the value you provide. By considering your costs, researching the market, evaluating your expertise, understanding your target audience, and employing effective pricing strategies, you can set prices that are both competitive and profitable.
Remember, pricing is not static. Regularly review and adjust your prices as needed to stay competitive and meet the evolving demands of your market. Focus on delivering exceptional customer experiences and communicating the value you offer. With a strategic pricing approach, you can build a successful nail and beauty business that not only meets your financial goals but also delights your clients every step of the way.
---

---
---