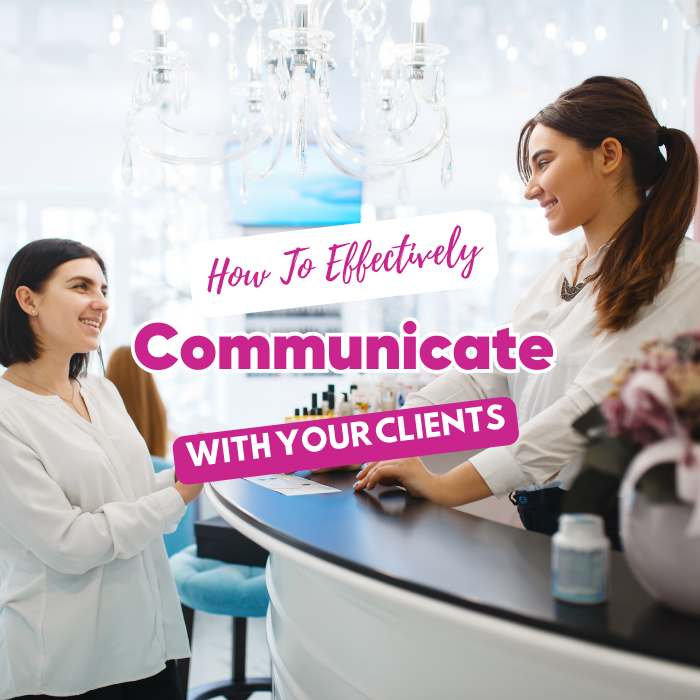 Customer Care
Many organisations have a customer care statement, which outlines the standards of service customers can expect. Clients want to enjoy their visit to the beauty salon and they are paying for a service. It is important that during each visit they are made to feel relaxed and comfortable.
Client care
Remember that each client has a different personality and different treatment needs, requiring an individual treatment approach. A client can be made to feel intimidated, uncomfortable or ignored – and this can happen without you saying anything! Even without speaking you communicate with your eyes, your face and your body, transmitting some of your feelings. This is called non–verbal communication, how you look and how you behave in front of your clients' is important.
Positive relationships with clients
On meeting a client, always smile, make eye contact and greet her cheerfully – however bad your own day is! As you communicate you can:
promote yourself, and gain the client's confidence in your professional and technical expertise
develop a professional relationship with the client
establish the client's needs
promote services and treatments
Verbal communication occurs when you talk directly to another person, either face to face or over the telephone. Always speak clearly and precisely and avoid slang. It is important to be a good listener, this will help you identify the client's treatment requirements and understand their personality. You can then guide the conversation appropriately
Conversing with a client
Having developed a professional relationship with your client, centre the conversation on them, so that they fell special. Avoid interrupting the client whilst they are speaking, listen carefully and be patient. A nervous client may need to be reassured. Gain their confidence by being pleasant and cheerful without chattering constantly. When asking questions, don't interrogate your client. Never talk down to them, and avoid technical jargon – instead, use commonly understood words. Certain technical information may not appear complicated but check tactfully with the client to ensure that they have fully understood the information provided. Avoid all controversial topics, when a relationship has been established, value it but be discreet – clients will often share confidences with you. Never pass judgement, and ensure that you deserve client's trust by maintaining confidentiality.
Responding appropriately
It may be that the client requests information that you are unable to help with or which lies outside you responsibility. If this occurs politely inform them that you are not able or qualified to deal with their request but will get somebody else to assist. Always indicate how long this will take of it will not be immediately. Keeping your client informed is reassuring and important to avoid dissatisfaction with the service provided.
Non-verbal communication
Non-verbal communication is also referred to as body language. Interpreting body language is an important skill; learn to notice how the client is behaving, including their voice, their eyes, their body and their arm and hand movements. An instinctive 'feel' for customers' behaviour can be developed with experience. Noticing client behaviour will help you to recognise the client's different needs and expectations. You must be able to adapt to these. When approaching potential customers in a situation, such as a client who shows an interest in a product on a retail display, be aware that conflicting signals may be given. For example, a person may smile and nod as if interested but may, in fact, not be. On the other hand, if the customer makes the first approach then they obviously have an active interest already. Initially the customer may be formal and may even have a stiff body posture and a reserved manner. As they become more interested, however, their posture will relax; they may begin to lean forward. It will become obvious at this stage that they are interested, and they then will go on to nod and agree, and to listen actively. You must use your own body language to good effect. You must be relaxed but attentive, and listen actively – nodding and shaking your head, and smiling in agreement. Use relaxed, gentle hand movements; do not twitch or turn away from the customer. If the customer is not agreeing with you, or is not interested, they may look bored, tap their fingers, fiddle with their shopping, look away, or even look at their watch. If these signs are evident, go back to the beginning and try to find out why they are not interested. This is important when selling. Perhaps they do not want the product you have recommended? Or perhaps it is too expensive? Suggest alternatives and see whether you can get their interest again. When the customer has decided to buy, smile – help them to feel that they have made an excellent decision. They should leave feeling proud to have purchased the product.
Avoiding client dissatisfaction
Some dissatisfied clients will voice their dissatisfaction; others will remain silent and simply not return to the salon. This situation can often be prevented through good customer care and effective communication.
Always ensure that the client has a thorough consultation before any new service.
Regularly check the client's satisfaction. If there is any concern, it is possible to make any changes throughout the service, for example, during a manicure.
Inform the client of any disruption to service – do not leave them wondering what the problem may be.Politely inform them of the situation, for example 'I'm sorry but we are running ten minutes late – are you able to wait?' if your salon has facilities, you may offer them a drink.
Inconvenience caused by disruption to service can usually be compensated in some way. It is important to resolve problems and keep clients satisfied. Customer care is vital: clients provide the salon's income and your wages. The success of the business depends upon satisfied clients.
---

---
---