NUS Extra Card with Next Step Beauty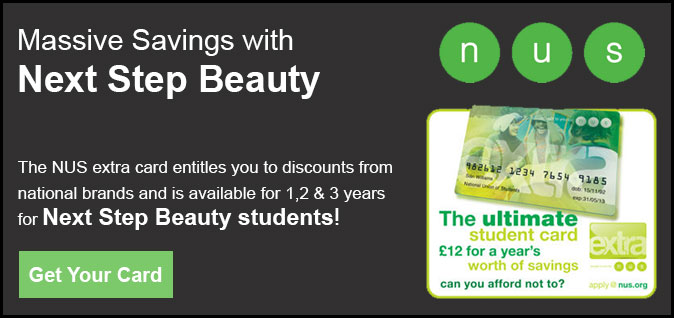 Next Step Beauty Partner with NUS Extra
We have been working with the wonderful people at NUS Extra to be able to offer all our students the discounts available with a NUS Extra card. If you are a Next Step Student you are now able to get an NUS card by applying online.
Once you apply for your card these will be sent to our head office in Norwich for verification and we will then forward them to you via post.
What is the NUS Extra Card?
The National Union of Students (NUS) have produced a student card designed for people studying, but who are not members of a traditional Student Union. This card can be used as proof that you are a student and enable you to benefit from a range of student discounts.
What are the benefits?
With the NUS Extra Card you are entitled to a range of discounts with many leading brands, such as Amazon.co.uk and Apple. A list of the discounts and offers is available here.
How much does it cost?
The NUS Extra Card costs £12 for one year.
How do I apply?
You can apply for the NUS Extra Card online. When asked to enter the institutions name, please type: Next Step Beauty. Then just follow the rest of the instructions.
You can find more information about the NUS Extra card here.