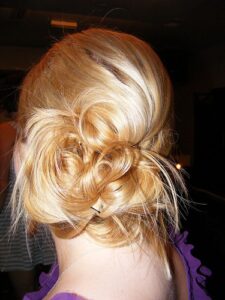 When it comes to working in or running your own salon, it's important to realise that you're selling an aspirational dream. Your customers are looking for a more attractive self and they are using your services as a way of achieving this. In some ways, your personal look will therefore be inspiration for them so it's important that you manage to look the part whilst still maintaining a professional persona. Here I give you a few top tips for achieving a professional look in the salon.
Hair
When it comes to your hair, you want a look that is not only stylish but complements your face shape, hair type and your outfit. Not to mention that is also practical. In most instances an up do if preferable to loose hair as it is not only more convenient throughout your working day but is also tidier and more professional looking too. The up do trends of the season are predominately side ponytails, side fishtail braids and messy style buns. Hair accessories should be kept simple and chic such as simple hair pins and bobbles although the odd artificial or even real tropical flower in your hair will add an air of sophistication and hint of summer style to your look.
Make-Up
Although bright, colourful make-up is in-trend for this summer, it doesn't really have a place in a professional environment so avoid wearing this style of make-up to the salon and instead save it for your leisure days. Equally the smoky eye look is a little heavy for summer days so should also be avoided in the salon. The perfect salon look when trying to achieve a professional image is natural look make-up. Use a light foundation, minimal bronzer or blusher and a simple, brown toned eye make-up base. A single line of eye liner and layer of mascara is perfect to complete the look.
Outfit
What you are allowed to wear in the salon may be regulated but generally a simple yet elegant look is ideal. Try to avoid overly fashionable clothing as this can sometimes look a little false or forced. Instead opt for a neutral look with shades of black, white and grey providing a timeless sense of style. Add colour if you wish using jewellery or scarfs but avoid colourful, heavily printed clothing if possible.
Footwear
In most salons, you spend your entire time on your feet so you need to make a footwear compromise unless you want sore, tired feet. Ultra high heels and stilettos are definitely out due to practicality however that doesn't made you're banished to ugly, school style shoes. You can still look both professional and feminine in flat ballet pumps or wedge heels – both of which are perfect for the summer season.
By following this simple style advice, you'll feel comfortable and look stylish at the salon.