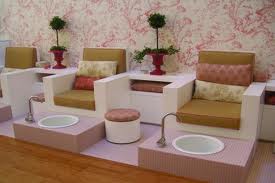 So you've made the decision to start your own beauty or nail salon and you have the finances in place to do so – so what's next? Well securing and furnishing the salon is the next step on your journey to becoming your own boss and you can do it by following these easy steps:
Find a suitable location – you need to find a premises which is the right size and within your budget. However you also need to think of traffic and customer foot fall; are there people in the area who want to visit your salon? A commercial estate agent will be able to help you with this step.
Remodel the space – once you have the sale or lease confirmed on the property, you need to re-design it into a salon. Think carefully about what the layout of the salon and what fixtures and fittings you need installing.
Install plumbing and electrics – ensure you carefully think about where you need water and electricity installed in the salon. For example think about plug sockets for hairdryers, straighteners and other accessories and how and when you need to access water. Ensure you can certified tradesman in to do the actually work.
Add furniture – you'll now be ready to add furniture to your salon. The key things you will need are shelving or cupboards for storage, some sort of reception desk, seating for both yourself and the customer having the treatment and additional seating for the waiting area. Opt for stylish pieces that are also functional in design to ensure that they not only look great but serve a purpose too.
Add accessories – next you will need to create an atmosphere in your salon. This can be done by adding accessories. Choose a general theme and/or colour scheme and stick to it. Ensure that everything works well together and adds that air of fun and sophistication that you will be looking for.
Now, you're salon is ready to open.