Give Your Salon a Hot New Look for Summer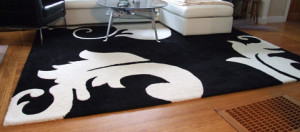 No doubt the trends that you see in your salon are very seasonal, well the world of interior design is very seasonal too. It is therefore important to give your salon a new lease of life ready for the coming season and luckily for your, summer is all about colour. Here I'll give you a little bit of inspiration of how to alter the appearance of your salon in time for the sunshine, without spending a fortune.
Soft Furnishings
Soft furnishings are a great way to bring a new lease of life to your salon without having to do anything too dramatic. A rug is one of the key pieces of the summer interior design look and the hottest trend is for a black rug with a white floral damask pattern. Now although a rug might not be too practical in your salon, there are a number of key places you can position one without it getting in the way. The first is to put a rug in your waiting area. This will help make this section of the salon more comfortable looking. Secondly, a doormat in the entrance way is another way to bring a rug into your salon whilst freshening the area up. However if you're going to place a rug or mat in your entrance way, choose a harder wearing one. Finally, you can choose a runner style of rug instead and place across the main walkway of your salon for a touch of luxury.
Colour
Colours for summer are eye-catching and bright. To achieve a sophisticated look, choose just one bold colour for your salon and either use as an accent colour, say on mirror frames, or on wall panels or apply to just one entire wall. This will help brighten your salon up. To reflect the colour trends of the season, choose from fuchsia pink, vivid purple or sunflower yellow.
Feature Wall
One of the emerging trends in high street fashion stores is a mood board or wall which shows the current styles of the season being worn by celebs. These can either be snippets of magazines or whole spreads from advertisements that reflect the styles. This is a great idea which can easily be transferred to the salon, whether showing complete looks from hair to fashion and nails or just certain elements from the look.
Hopefully these simple ideas have given you some inspiration to make some summer touches to your own salon.