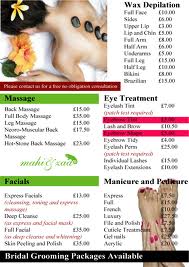 So you have completed you're training and now its time to setup your salon or start your mobile therapy business. Undoubtidly one of the questions on your lips will be "what am I going to charge my clients?" This is a questions we at Next Step Beauty get asked a lot by students so here are my thoughts on the best way to price your products and services.
1. Don't be a busy fool
I always think main thing to remember when pricing your services is that you need to remain competitive locally without reducing your charges so much that you affect your bottom line profit, after all you want to make money and not be a busy fool! Over the years I have witnessed many business's reducing prices "because that's what everyone does" instead of just focusing on having a fantastic service which everyone wants! Clients will pay that little bit more for that extra service so don't be scared to price yourself in the mid to upper region.
2. Stand out from the crowd
Think about what services you could offer to stand out from your competition. What can you offer locally that no one else is offering? Or what is everyone else offering (badly) which you can improve on? Focus on your amazing service rather then the price! Clients who are only looking at the price will not stick with you; they will constantly be looking around for the best "deal of the day" rather then the fantastic service you provide. In this instance price is primary and service is secondary. Clients who believe in your service will, within reason, pay that little more and be loyal allowing you to grow a residual business.
3. Avoid hidden charges
Avoid hidden charges like the plague. No one likes to get the bill and find out you have added an extra £10 to cover your petrol when you didn't tell them that from the start! The way to build a thriving business is to be open and honest. There is no problems charging but make sure your client knows the charges before you start!
4. Research your competition
Although I am not a big fan of doing to much research into competition it is worth seeing what they are charging but make sure you then price your services according to your margins and not theirs! Just because someone is charging £5 for a manicure does not mean they are making money so don't follow them. Researching your competitors will give you an idea of the average prices in your local area which you can use to your advantage but don't let that set your pricing strategy.
5. Do the maths
To many times i see beauty business pricing and can not understand who or why they chose a specific model. Just the other day I saw a salon advertising Gel extensions for just £10 – WHAT! They must be loosing money. Here is the calculation:
Sales = £10
Products = £12
Profit = -£2 (and thats before you even think about taking your time into consideration!)
—
Here are some ideas on pricing but please remember pricing will change depending on your location and the costs of products being used:
Mini Manicure/pedicure – £10 to £12
Manicure/pedicure – £20
Luxuray Manicure/pedicure – £25 to £30
Gel Nail Extensions – £25 to £30
Gel Polish – £15 to £20
Acrylic Nail Extensions – £25 to £30
Fiberglass and Silk – £25 to £30
Spray Tan – £15 to £20
Eyelash Extensions – £50 to £75
1/2 Leg Waxing – £10 to £12
Underarm Wax – £8 to £10
Bikini Wax – £10 to £12
Facial – £30 to £50
Body Massage – £25 to £30
Please Note – The prices above are for guid only. Each area will be slightly different however I hope this gives you somewhere to start
As always if we can help you further please comment below and we would be delighted to help you.