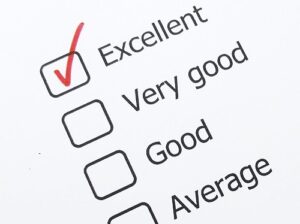 A problem that many beauty businesses face in todays online business market is the increasing number and the popularity of review sites and how to protect your businesses reputation from being tarnished by a few fake reviews. It is true that one disgruntled customer will shout louder then a thousand happy ones but a recent BBC report which details Yelps admission that a quarter of all the reviews posted on the online directory and review site are fake! So when it is hard enough dealing with that one customer who just wont take no for an answer now you have to also fend off your competitors from trying to tell the world how bad your services are!
An academic report quoted that after analysing more than 310,000 reviews of 3,625 restaurants, they found that negative fake reviews occurred in response to increased competition. We know this is also happening within the nail and beauty industry too.
So as a business how can you keep control of your online pr, stop your competitors leaving fake reviews and ensure your company is not being targeted?
Well the simple answer is that it is very hard but it can be achieved. It is a continuos effort and one we have experienced first hand here at Next Step Beauty. Here is a few steps you can take in order to protect your company:
1. Ask your clients to write genuine reviews
When we discovered that competitors were actively targeting our business, writing bad reviews on fake customer experiences we leapt into action creating our own review system which only allows students to leave reviews once they have completed our courses. This allows us to ensure only reviews completed by genuine students are published on our website!
Top Tip – Don't worry about negative feedback, take your clients comments and turn it into a positive, after all the only way to get better is to understand what you clients want.
2. Monitor your brand name on Google
Doing a simple search for your business or brand name on Google will give you great insights into what people are saying about you. You will be able to find reviews on your products and services and then you can start to understand if reviews are genuine or fake! Try connecting with the reviewer and see if they reply to your comment on the thread. Most fake reviewers will not come back to you and the ones that do very rarely give you a name for you to be able to check if they are real or not but if you can get a name this will allow you to check your records to determine if the review is real. If it is real, try sorting the issue and come to a good conclusion with your client.
3. Don't back down to blackmail
Several times unfortunately we have been blackmailed into doing something which we feel uncomfortable with in order to stop customers leaving bad or negative reviews. As a company we have a strict policy not not to allow blackmail make the decisions on our business operations and this is something you will have to make your own decisions about but it is not easy when you know simply refunding money will make the problem go away. You may hear, "I did not like the way you did my nails, if you do not give me a full refund, I will post bad comments about you on Facebook" Giving into this kind or blackmailing simply creates a culture allowing clients to be able to have services and then receive monies back in order to stop reviewing, lets stamp it out from the start!
4. Don't be tempted to start writing fake reviews
Don't be tempted into writing fake reviews in order to build your online presence. I can see how this would be appealing but in the end you will be found out! Last week New York authorities fined 19 firms a total of $350,000 (£218,500) for posting fake reviews on websites and I can see this being increased in the coming years as more and more business start using these poor practises. Offer a fantastic service, ask you clients to review it and they will I promise.
5. Report fake reviews
Writing fake reviews is fraud make no mistake so if you see one which you feel is not genuine then report it! Some review sites take your case more seriously then others but it is worth reporting it and seeing if you can have the post removed. Remember you do have some (although not many) legal rights so consult a solicitor for advise on further action you can take.
—
Here is a scary stat – 42 million reviews have been published on Yelp since its launch in 2004 and with the figures quoted this means that 10.5 million are fake!
I hope this article has helped our students and readers and like always if you have been effected by fake reviews, get in contact, we would love to hear from you.
To see our genuine company reviews visit: https://www.nextstepbeauty.co.uk/reviews/  or http://www.reviewcentre.com/Online-Health-and-Beauty-Shops/Next-Step-Beauty-College-www-nextstepbeauty-co-uk-reviews_1510104