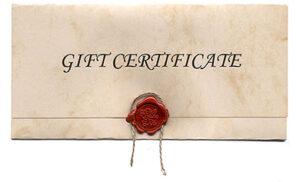 When it comes to running a salon, you can often get bogged down with the day to day running of the business and forget to look at the bigger picture. Tasks such as scheduling appointments, stock taking and cleaning need to be done but you also need to make time for planning marketing and business strategies which will help to ensure existing clients return for further treatments, and also to encourage new clients into your salon.
One idea that is often over-looked by many salon owners, or mobile nail technicians, is gift certificates. Here we look at how to use gift certificates to draw in existing and new clients:
Existing Clients
If you are a salon owner, or work in a salon, it's worth putting a poster in the window to advertise the fact that you offer gift certificates. This is a great way to let friends of existing clients know that you have gift certificates available to purchase – what better gift than a free treatment at a clients' existing salon?
You could also issue gift certificates to your clients for special occasions such as on their birthday or at Christmas time. If you have a database containing your client's  addresses, you could mail out certificates to clients and tell them that they can use them within a month of the issue date at your salon. A monetary value tends to work better than a percentage discount so £10 off a manicure or a similar offer is ideal.
New Clients
In order to entice new clients into your salon, advertise your gift certificates to existing clients in the hope that they will be so pleased with the service they receive that they would want to purchase a gift certificate for their friends or family to use. Again you can advertise the fact you now offer gift certificates within your salon or you can drop it into conservation when chatting to your clients – either way, getting a new client in the door is potentially worth  lots of revenue, especially when regular customers might re-visit you every three week or so for further treatments.
When it comes to sourcing the actual gift certificates, you would choose to purchase credit card style gift certificates or a cheaper option would be to print out some generic gift certificates and simply fill in the details as they are purchased.