Should Salons offer Treatments to under 16's?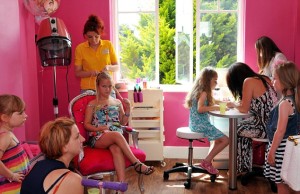 Within the salon there may become a time when a minor, that is anybody under the age of 16, requests treatments. Each salon will have their own standing on this issue; however the general consensus is that all minors' wishing to have treatments need to have written/signed consent from a parent or guardian, stating that they are happy for the treatment to go ahead. Although it is not law to have a responsible adult present when carrying out treatments, for example some waxing or facials, it is advisable. Some parents/guardians are happy to have the treatment go ahead without them being present if this happens then insist that an appropriate adult is present throughout the treatment especially if they are under the age of 16. This ensures that they are witnessing your actions at all times. If working within a salon then make a colleague aware that you are treating a minor as they can be in the proximity if a situation arises. This ensures both the safety of the young client and also of yourself.  Each salon will have their own policy and procedures on treating minors. Be aware of who you are carrying out treatments on and where they are taking place, e.g. in a public area doing a nail service or in a private room doing a waxing treatment.
Some salons will not perform any beauty treatments on those under the age of 16 and/or limit the type of services that can be performed.
As there is no legal minimum age at which a person can receive treatments, it is down to the therapist themselves to ensure that they are practicing in accordance to a number of Government Guidelines and Acts that are concerned with the welfare and safety of children.
Not only do you need the consent of the responsible adult but also the child themselves. This ensure that they are wanting the treatment on a voluntary basis and they have not be pushes onto making a decision by an over-bearing parent or guardian. If the child makes any indication that they do not wish to have a treatment then you should not treat them under any circumstances, If they are happy to proceed that it is imperative that you outline to the child what the treatment will involve, the possible benefits and contra-actions and any alternatives, if there are any.
As a therapist it is your responsibility to ensure that the young client understands all of the above before they consent to the treatment. This means providing a simple but thorough and honest explanation of what to expect before, during and after the treatment. It may help to show them the products or equipment you are going to use explaining what it does, give them a taster of what the treatment will feel like, particularly if it going to involve a degree of pain, e.g. waxing.
Providing written information that they can look through and discuss with their parents/guardian at home may also be useful. Make it clear to them that they are entitles to change their mind at any point. Asking them if the are 'OK' and 'comfortable' throughout the treatment is also good practice, as you are then giving the client the opportunity to query or stop the treatment if they are at all unhappy. If at any point they ask you to stop then do so immediately, your priority is not to get the job 'finished' – it is to up hold the health, safety and well-being of the client.
If you are concerned that the parent or guardian has not given consent then it will not be unreasonable to contact the parent to confirm they have read and completed the letter themselves.
Remember you  are not obliged to treat any client, irrespective of who have given consent. If you believe that a treatment is unethical,  inappropriate or potentially unsafe for somebody under the age of n16 them DO NOT carry out the treatment. If in doubt, a good measuring stick is to ak the question: 'will this treatment improve the well-being of the client'?
Some therapist worry that if they refuse to treat a young client on ethical grounds, that person may then go to someone else who is less professional, or even attempt to carry out the treatment themselves. However, this is not a good reason for giving a treatment against ethical or professional principles.
Here is an article from the Daily Mail on a salon in Essex specialising in treatments for children:  http://www.dailymail.co.uk/news/article-2001148/Trendy-Monkeys-Essex-beauty-salons-make-overs-spray-tans-girls-young-1.html
—
Have you got an option on the subject? Make a comment below, we would love to hear your thoughts