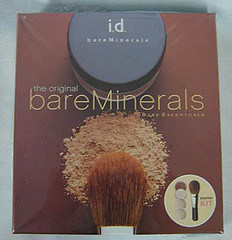 Everyone finds a product that just works for them, mine is definitely Bare Minerals original foundation SPF 15. Over the year I've tired lots of foundations but never really found on that firstly didn't make my skin feel clogged up, or made my combination skin oilier, until I tired Bare Minerals foundation.
Bare Minerals is a company that pride themselves on not only providing a make-up ranges that looks fantastic but is also good for your skin. Every mineral used in their formulations is carefully selected to deliver proven results. Their makeup uses naturally derived minerals to give you exceptional long-lasting coverage, lightweight wear, with a creamy texture and UVA/UVB sun protection. Ingredients in bare Minerals, incorporates a blend of potent macro and micro minerals to increase cell turnover, improve luminosity and help your skin defend against environmental stressors, in simple terms it acts a skin care product not just a foundation!
The original foundation looks like a powder is actually crushed minerals that blend onto your skin like a cream, so it doesn't clump or cake. You apply the makeup using a brush either the full flawless application face brush that gives a light but even courage or for a fuller coverage use the Handy Buki Brush; both bushes give a lovely even complexion that glides on after using the swirl, tap, buff application method. Buffing the foundation on gives the flawless appearance, that goes on in minutes.
For me it works every time, the foundation will cover any blemish, make my skin feel soft and supple, great for when my skins looking dull and tired, the colour perfectly suits my skin tone and gives an airbrush appearance even after 10hrs at work!
A few tips-
-Always use the primer it will help with flaky dryness, fine lines, excess oil, and enlarged pores.
-Or use Bare Vitamins Skin Rev-er Upper this multivitamin facial prep will rejuvenate and smooth out the surface of your skin before your foundation.
-Then moisturise it helps the foundation last all day.
-Swirl, Tap, Buff the foundation to get great coverage.
-Apply Mineral Veil finishing powder, its a see-through powder that helps, minimising lines, absorb oils, and softening your complexion, it gives you the finish airbrushed look and lock in your makeup.
ORIGINAL SPF 15 Foundation £25.00
Mineral Veil £20.00
Bare Vitamins Skin Rev-er Upper £19.00