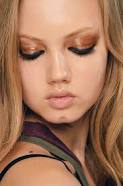 In the world of beauty, news travels fast and none more so recently than the news that legendary makeup artist Charlotte Tilbury is launching her first ever makeup collection.
Charlotte's Background
Although not all of you will have heard of Charlotte Tilbury, you'll probably have seen her work as she's actually make-up artist to the stars. But let's go back to the beginning of her story to see why her new makeup range is so eagerly anticipated…
Charlotte grew up in a world many of us can't even imagine. Splitting her childhood days between trendy London and bohemian Ibiza, it's hardly a surprise that she grew up with a passion for creativity. Having discovered mascara and the power makeup can give you, it was a meeting with makeup artist Mary Greenwell that actually sparked the idea of Charlotte becoming a makeup artist.
Charlotte entered the beauty industry during the 1990s when women were embracing their power and supermodels were all the rage – she was immediately immersed in the glitz, glamour and whirlwind activity of the high-fashion industry. Before long she was doing the makeup of the celebrity elite such as Kate Moss, Jennifer Lopez and Penelope Cruz whilst working with incredible designers like Stella McCartney and some of the best photographers in the industry.
After an inspiring career within the industry and having worked for two decades with other makeup brands Charlotte felt that now was the right time to launch her very own makeup collection, with the philosophy that if you 'give a woman the right makeup, she can conquer the world'.
The New Collection
Charlotte Tilbury invests every essence of her being into her work so instead of testing the water with her makeup range like many other brands, she's actually launching with a fully comprehensive range of over 100 products!
The collection not only aims to beautify with colour with also to actively improve skin so as well as makeup items there are skin care solutions like Charlotte's Magic Cream – a moisturiser with added SPF to hydrate and protect.
Most of Charlotte Tilbury's makeup range is still under wraps as the official launch isn't happening until 2nd September. Initially it will only be available from Selfridges and Charlotte's own website.