As a nail technician, you often come across many different nail conditions, the question is – "Do you know if it is a nail disorder or nail disease?"
As an educator who regularly teaches nail courses, I always explain to students the importance of recognising a nail disorder or nail disease, however I then explain the importance of not diagnosing any conditions and always referring to a GP or pharmacist for further advice. It is important to note that as a Nail Technician you are not qualified to diagnose, only suggest recommendations. The first thing to remember is if you are ever unsure, refer to the GP and do not treat.
Nail Disorder
A nail disorder is a condition that can be treated. They can be caused by internal and external factors and most people will experience one of these conditions at some point.
Examples of nail disorders include: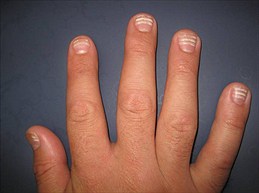 Beaus Lines – Wavy horizontal ridges across the nail plate, often caused through illness, medication or heart disease. Light buffing can help improve this condition.
Furrows – Ridges from the matrix to free edge often caused through arthritis, incorrect removal of nail extensions or damage to matrix. Light buffing can help improve this condition. A dark polish or opal polish will highlight the ridges, so it is recommended to apply a clear or light polish.
Leukonychia – White spots in the nail plate, which are commonly mistaken as the result of calcium deficiency, are actually caused through calcium deficiency, actually caused through minor trauma to the nail. White spots will grow up and out so one should treat the nail with care and avoid pressure. Leukonychia is commonly caused through over filing when blending nail extensions.
Eggshell Nails – Thin, curved over the free edge and fragile nails. Improper diet and severe medication can cause this condition. In this case it is best to keep the nails short and avoid pressure.
Hangnail – A small tear or split in the cuticle, which can be removed with cuticle nippers during a manicure. Regular nail treatments are needed to improve dry skin conditions.
Nail Disease
A nail disease is more serious and if not treated, can result in deep infection or in extreme cases, can cause permanent damage to the nail.
As a Nail Technician, if you ever feel that a client may have an infection present or suspect any of the following nail diseases then you must refer to a GP for further treatment. It is also important not to treat a client until they have a GP referral letter giving them the "all clear" to have a nail treatment.
Examples of nail diseases include:
Infection and Inflammation – Often the nail or finger will appear red and swollen. This can mean that there is a bacterial infection present.
Atrophy – An injury or disease of the nail, where the nail plate will be wasting away.
Hypertrophy – A fungal infection where the nail plate will become very thick and over grow at the side walls. If there is no infection present, nails can be buffed regularly to help thin the nail plate. This condition can be hereditary.
Whitlow – A bacterial infection, often the result of hangnails becoming infected. The infection may result in permanent damage to nail plate.
Warts – A viral infection with lumps on the hands and fingers. They are very contagious and this should be referred to the GP immediately.
Ringworm – A fungal infection, white patches are often found on the nail plate as a result of rotting on the nail.
Oychosmadesis – An injury or disease that can cause the nail plate to lift away from the cuticle (a new nail grows and pushes the old nail plate off). The nail must be allowed to re-grow fully before any treatments are carried out.
Onycholosis – An infection where trauma or psoriasis have caused the nail plate to detach from the nail bed starting at the free edge. Care should be taken, as the nail can be easily ripped off. This is very common after incorrect or home removal of nail extensions.
Note from Victoria Arpels
"Having worked in the industry for many years, I have found that creating a book of nail diseases and nail disorders and using this as a reference is a very effective way of learning. It also allows you to build a knowledge and understanding of the different conditions. It is a good idea to place pictures of the disorders/diseases into the book as it helps you to recognise the conditions.
Unfortunately due to the lack of regulations in the nail industry many Nail Technicians do not have the qualifications and knowledge to check for any nail diseases before nail treatments. This can result in the spreading of infection.
As a nail technician it is your responsibility to advise and help improve your client's nail condition. Therefore my one piece of advice would be to ensure you are clear on the difference between the nail disorders and diseases and if you are unsure refer to a GP."
—
Victoria Arpels is a principle at Next Step Beauty college. The college offers short beauty, holistic and nail courses in London, Norwich, Manchester, Birmingham and Bristol as well as full NVQ qualifications at their Norwich spa training Facility. All Nail and Beauty Courses are accredited with BABTAC or VTCT offering students recognised qualifications and insurance. You can visit her website at www.nextstepbeauty.co.uk