Introducing Gelax from Essential Nails
Gelax from Essential Nails
There are a multitude of brands that offer UV gel polish but how do you know which one to choose for your salon? With initial outlays and product offerings varying greatly you need to choose one that suits both your budget and the needs of your current and future customers. Ultimately what you want is long-lasting, durable nail colour in a wide range of shades. That is exactly what Essential Nails offer in their Gelax UV Gel Polish range. Read on to find out more about the range.
What is Gelax and What is Included in the Range?
Gelax is a revolutionary gel polish that has been specifically designed to glide onto nails easily, offering long-lasting colour for fourteen days and hassle-free removal. There are a number of items in the range which are available to professional nail technicians and allow you to offer Gelax to customers. Firstly, there is a special orange stick, cuticle-pusher and natural nail file in order for you to easily shape your client's nails.  Then it's a case of applying the Gelax Base Coat which prepares the nail for receiving Gelax Colour Polish and then once dry, applying the colour itself from the great choice available. Then it's on with Gelax Top Coat which gives a durable, hard-wearing and not to mention super-glossy finish. Cure all with a UV lamp and it really is that simple.
Removal of Gelax Colour Polish is simple too, taking just ten minutes with a range of fabulous products to help. These include Dream Gel Wipe Off Solution, Lint Free Pads and Gelax's revolutionary Removal Wraps which allow colour to be removed with the least amount of mess and time involved.
What Colours are Available in the Gelax Range?
One of the key deciding factors in the choice of UV gel polish is the range of colours available – after all you want a blend of classic and current trend colours to keep all your clients happy and coming back for more. The Gelax Colour Polish current range includes over 35 different shades – each with a beautiful name. Choose from classic colours like mid-toned Powder Pink, deep Fiesta or subtle Pearlescence or opt for something a little more intense like Gelax's fuchsia based So Pink, blue toned Night Flight or edgy Smoke.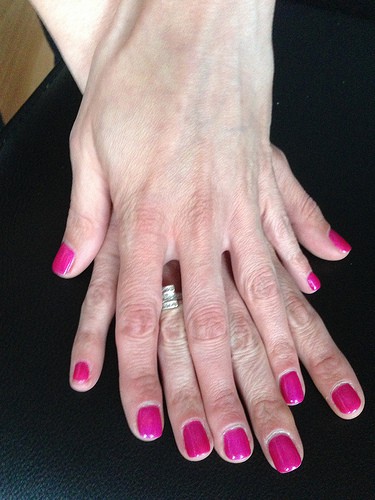 Image Credit; Compliments Style
Award Winners – Gelax Gel Polish
Unlike many UV gel polish brands, Gelax has great credentials, having won awards for their range. In the 2013 Guild Awards of Excellence, Nail Essentials won the 'best supplier' category. This award is given to supplier who go above and beyond the call of duty – reflecting the attention to detail and quality that goes into every one of their products, including the Gelax  UV polish range.
So with a great choice of colours, simple to apply and just a ten minute removal process, Gelax from Essential Nails may well be the brand for you.