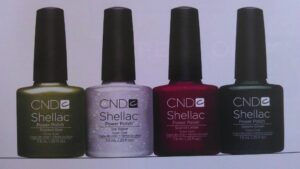 So it might only be October but in the commercial world, this means that it's almost Christmas and you need to start marketing and offering your Christmas themed treatments to clients as of now.
To help you out, CND Shellac have recently launched their exclusive Charmed Collection. This includes a series of new nail colours designed specifically for the winter season. The collection includes the return of the highly popular CND Shellac Ruby Ritz polish as well as four new colours inspired by the festive season. These include Serene Green, Scarlet Letter, Ice Vapour and Frosted Glen – all of which are in keeping with this season's hottest colour trends, making them that little easier to get your clients to try out, and come back for.
In addition to nail colour, the Charmed Collection also includes four new limited edition additives too. CND Shellac's usual range of additives include vivid, concentrated pigments such as yellows, reds and blues as well as titanium pearl and violet purple amongst others. These are ideal for adding special effects to nail art and are designed to blend into liquid, powder and gel – you can even layer them over CND Shellac polishes for a custom finish – perfect for that client who always wants that little bit extra in the wow factor stakes.
To complement the Charmed Collection is a delightful range called the Scentsations Charmed Trio. This includes three scented lotions designed to restore essential moisture and lure the senses. The lotions come in Veiled Plum, Cranberry and Wicked Ivy – any of which will make a welcome addition to a manicure for your clients.
So whether you are looking for something Christmas specific for your clients or just some new colours or effects to try, check out the new CND Shellac Charmed collections today.
—
If you are looking to complete a gel polish course, we offer an accredited course ideal for use with Shellac.