When someone mentions human trafficking, you automatically think of girls in their late teens and early twenties who are working in the entertainment business. However it would appear from a recent study that low-cost nail bars are being used as a front for this increasing crime.
Human trafficking is the practice of smugglers agreeing to bring illegal immigrants into the UK in return for large fees. Once arriving, the illegal immigrants are often faced with large debts which they cannot afford to repay and have no chance to turn to anyone for help. Instead they are being forced to work for a pittance in a variety of industries.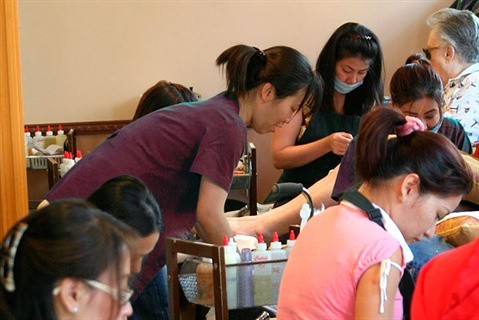 The latest research, undertaken by the Sunday Times, suggests that the latest industry to be used as a cover for this heinous crime is the nail industry. The paper reported that there are an estimated 100,000 Vietnamese nail technicians working in salons throughout the UK but the latest census indicates that there are only 29,000 Vietnamese migrants officially living and working in the UK – a discrepancy of a massive 71,000.
There are an estimated 30,000 nail bars across the UK.
Since 2008 police have raided more than 100 nail bars across the country. Officers issued owners with fines totalling almost £700,000 for employing about 150 illegal immigrants. Experts say the real number of trafficked Vietnamese in nail bars is far higher.
The study also highlights that unregulated workers are not qualified or insured to work in the UK's nail industry  – potentially a safety hazard to the thousands of women who enter nail bars every week looking for a manicure or nail extensions. Within the last five years, 90 nail bars in the UK have been fined for employing illegal immigrants and legitimate salons are in uproar that more isn't being done to resolve the issue.
Habia chairman, Suki Kalirai stated that 'this news shows that changes must take place in the beauty industry, which is thankfully taking strides to become a more professional sector'. He goes on to say that 'the industry itself is calling for further measures to recognise the skills and qualifications of professional nail technicians'.
—
If you have a view, why not tell us what you think. Use the comment section below to have your say!