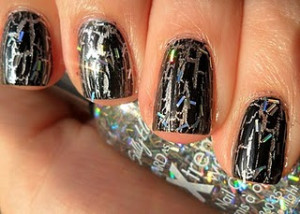 If you're an Avon representative or one of their die-hard fans you might refer to the look as 'Mosaic Effect'. If you're an OPI customer you may call it 'Shatter' or if you're a follower of China Glaze you might refer to the look as 'Crackle Glaze' but in reality what do all these terms mean in relation to your nails? Well they are basically the different names of the innovative nail art trend that came about a couple of years ago and is continuing to be a fashionable look for the coming summer.
So what is 'Crackle Glaze' and the so like? Well it's a form of top coat nail colour that instead of drying in the convention all-over way of normal nail polish, shrinks and cracks as it dries. Now if you're not familiar with the look you might be a little baffled as to why you might want your nail colour to dry in this way but if you've seen the look you'll know that it creates an eye-catching effect.
So now you may be wondering how to turn crackled nail varnish into a great new look, well it's really simple to achieve whether using Avon's Mosaic Effects, OPI's Shatter or Revlon's Crackle Effects. You simply prepare your nails for colour in the standard way with a base coat and then apply your favourite nail colour in the same way as usual. Once dry, you apply one coat of a cracking nail varnish, from whichever brand you prefer, and watch it as it dries. The top coat will part as it dries to reveal the nail colour beneath. The result is stunning.
Most brands offer a range of different coloured crackling nail polishes so you can create a fabulous look for any occasion but here are some of my favourites:
1)      OPI's Atomic Orange Nail Lacquer with OPI's Black Shatter – this great striped orange and black finish reminds me of tigers and is perfect for a fun, eye-catching look.
2)      Avon's Viva Pink Nail Colour with Avon's Black Mosaic Effect – this striking combination is the perfect way to add colour to an evening outfit.
3)      China Glaze's Dark Silver Nail Colour with China Glaze's Broken Hearted Crackle Glaze – this wonderful moody, metallic grey base looks fabulous teamed with the bold pink crackle effect.
There are so many combinations to discover that you'll want a different look for every day of the week.
Image Credit: Nail Polish Anthology