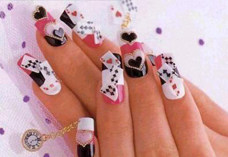 I was lucky enough to recently be invited to visit a nail and beauty trade show in Athens. Being one of the largest trade shows in the world, I was stunned by the number of nail art companies which were exhibiting and it soon became clear that nail art is becoming one of the fastest growing sectors of the nail industry.
Companies had products ranging from the basic nail art pens to full coloured acrylic kits and 3D nail art, clearly drawing interest from nail technicians from across the world ranging from beginners to advanced technicians with many years experience.
The question I ask is, "Are these companies providing the relevant training for nail art?"
I have many years experience being a nail technician and have attended several nail art workshops but still many of the products I came across during my trip to Athens were new to me. As a educator, I often come across students who are looking to advance their techniques within nail art but struggling to find training centres who offer this.
As a training academy Next Step Beauty have a high level of interest in nail art training. Due to this interest we now offer a basic nail art course designed for beginners starting from the basic glitter application to flowers and free hand paint designs. Moving up to our advanced nail art workshop allowing nail technicians to extend their techniques using sculpturing, coloured acrylics to create 3D and 2D nail art and blending techniques.
Information is also given on new products and nail art DVD's can be purchased to provide nail technicians with home study techniques.
Over the past years Next Step Beauty training centre has come across many questions from students relating to nail art and below I have taken some of the recently asked questions which students have written in with.
Q) Is training needed for nail art or can I teach myself?
A) Additional training for nail technicians is always beneficial, and to be a successful nail technician you should always be willing to attend and learn from workshops and courses. Nail art can be simple but still effective so some techniques can be self taught but more advanced techniques require demonstration and practical guidance from a nail educator. At Next Step we recommend you attend one of a one day nail art courses to give you the first steps into nail art, providing you with designs nails and ideas within a workbook and manual. After the course you can then attend our advanced nail art workshop, many students find that once they have begun nail art training they are keen to move onto new products and try new advanced techniques. Nail art courses have proved in the last 2 years to be very popular and way to build your skills as a nail technician.
Q) How much are nail art kits?
A) Often many nail technicians start out with the basic nail art kit and then build as they go through their career attending nail exhibitions and workshops. Next Step Beauty recommend that you attend the course and then build your own kit as you are ready to extend onto advanced techniques. Often nail enamels that you already have can be used to create nail art designs, you just require several brushes to aid application.
Q) How can I ensure nail rhinestones and transfers are secure on the nails?
A) It is always best to apply nail gems to wet enamel to allow for adhesion, so begin with a base coat and then apply rhinestones into wet surface using a orange wood stick and then seal with two layers of top coat. You can advise clients to apply a clear top coat every other day to seal and prolong adhesion allowing clients to have long lasting nail art designs. Products such as salon system nail art sealer are fantastic to apply over the top of nail art and rhinestones, this product can also be retailed out to clients to use at home.
Q) Are there any products to help nail art to adhere to natural nails?
A) From my own experience as a nail technician, it is important to prepare he natural nail correctly prior to application of nail enamel and nail art.
Begin with lightly removing the surface shine of the natural nail using a 240 grit file and white block,
Spray with nail antiseptic spray to remove natural oils and dust from the nail and then avoid touching the nail plate,
OPI have recently brought out a great product called "Chip Skip" which is applied prior to base coat to temporarily dehydrate and remove oils from the nail plate prolonging the adhesion of nail enamel
After application of Chip Skip I then apply a base coat, nail enamel and nail art and then seal with 2 layers of top coat or salon system nail art sealer.
Q) What is the best way to display my nail art designs?
A) There are many nail art display boards that can be purchased to display nail art but this can become expensive when first starting out in the industry. Displaying your nail art designs is a must as this is what is gong to be selling your work to your clients. As an educator this question is often raised by many students and I recommend that you follow these basic steps and you will create an effective but low cost method of displaying your designs.
Purchase a small piece of flower oasis from your local florist
Cut to a oval or square shape
Cover oasis with your own choice of wrapping paper, ensuring all is covered and is neatly sealed underneath. (plain silver paper is always a good choice)
Stick nail tips to some wooden orange sticks or cocktail sticks, apply nail art design to plastic tips
Then simple stick the ends of the wooden sticks into the oasis creating a beautiful display of all your nail art designs.
This is a simple, effective and easy way of display your designs that can also be regular changed or added to.
—
If you have any questions about nail art, why not contact Victoria Arpels by emailing info@nextstepbeauty.co.uk or calling 0800 012 4248
—
Next Step Beauty provide nail art courses in the following locations: