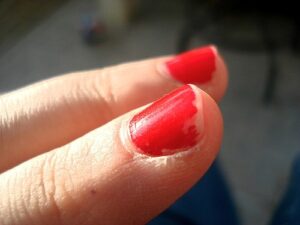 If you've found the time and the money to get a beautiful manicure done, you'll want it to last as long as possible. I've therefore put together some top tips for prolonging your nail colour and condition:
Tip #1: Wear Rubber Gloves
My first tip for prolonging your manicured nails is to wear rubber gloves whilst doing the washing up. This is because warm water will soften your nails and leave them prone to breaking whilst contact with harsh scourers will leave your nail varnish chipped. It's also important to wear rubber gloves when doing the household cleaning.  Exposure to many cleaning chemicals may corrode your nail polish, causing discolouration, chipping and peeling.
Tip #2: Re-Apply Top Coat
No doubt whether you applied your nail varnish yourself or had your manicure done in a salon, a top coat of polish would have been applied. This is designed to protect your nail colour from chipping. To prolong the life of your nails, I would recommend re-applying top coat every two or three days. This can also help to re-gloss your nails which may have become a little matte during your recent day to day activities.
Tip #3: Avoid Sunlight
UV rays caused by exposure to sunlight can cause your nail colour to fade. This will be particularly noticeable on bright polish colours. To avoid this from occurring, you should try to limit your sun exposure. If this is not possible, an application of sunscreen over your nail polish may help to reduce fading.
Tip #4: Biting
Biting your nails is never glamorous but when the ends of your manicured nails are jagged, they are more prone to snagging on things such as items of clothing which results in chipping. Try to avoid biting your nails and if you are really struggling, there are a number of foul tasting aids which can be applied to your nails, even over nail polish.
Tip #5: Avoid Heavy Nail Usage
When you have relatively long, strong nails you may notice that you use them for a wide range of things that can actually not only chip your nail polish but also damage your nails too. Good examples include using your nails to peel off stickers, open key rings and a pinching things. To prolong the life of your nail colour and the condition to your nails, try to avoid doing anything that involves heavy nail usage.
By following these top tips, you should easily be able to enjoy your new manicure for around seven to ten days.