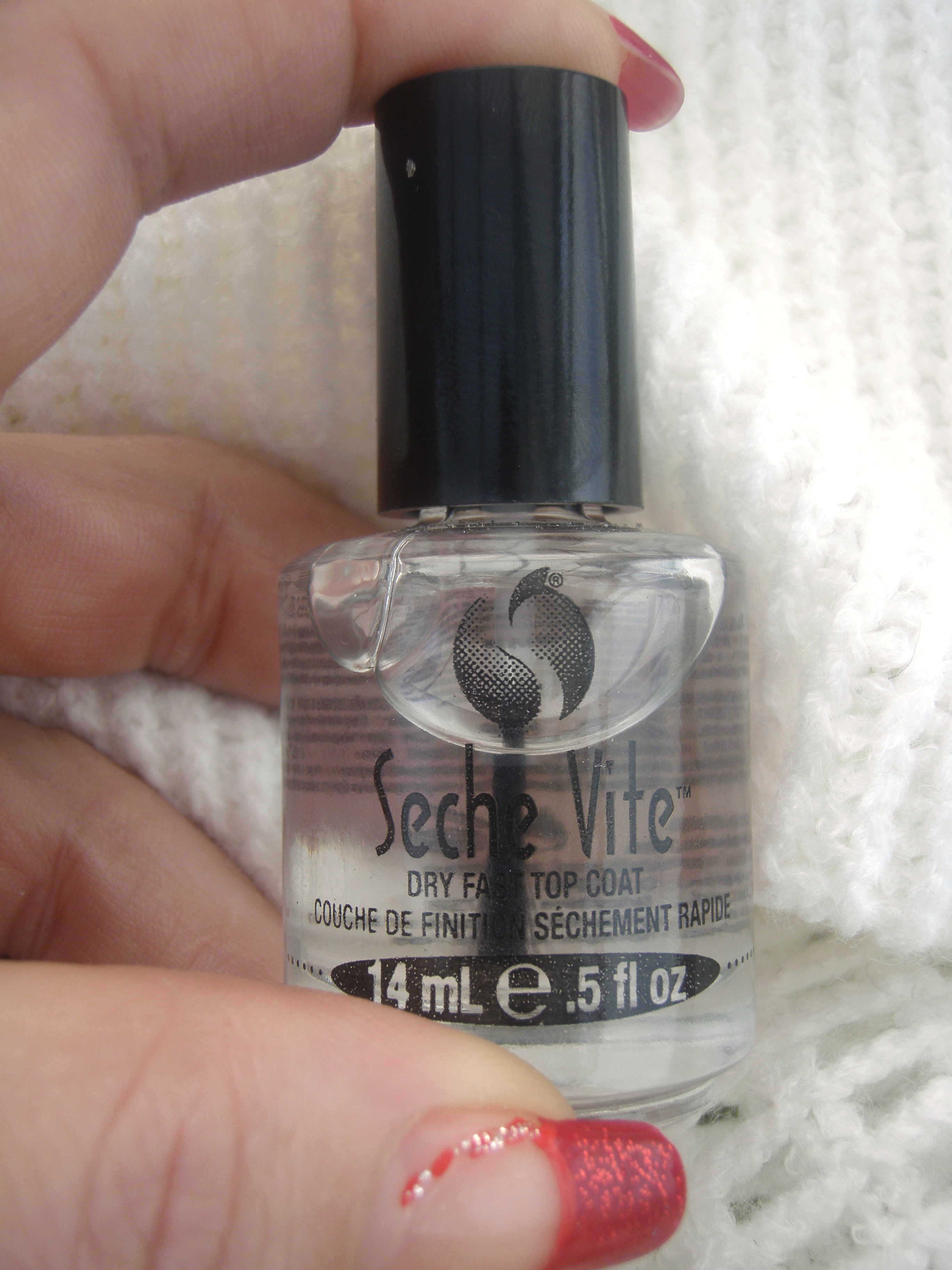 I'm impatient when painting my own nails, there always seem to be a task I forgot or the temptation to make a cuppa directly after I apply my nail varnish…and we all know how that ends right? I can also see that a fast drying top coat will give my clients better results too, the temptation to hurry off after a treatment can lead to smudging away from the salon and this makes for unhappy clients. So I went on the prowl for a FAST drying top coat. I always do an internet search before I purchase anything, word of mouth is a strong tool and 99% of the comments I found were positive on SECHE VITE™, so I placed an order. I purchased my bottle on ebay for £5.99
The best part of SECHE VITE™ for me is it dries FAST! (A minute or two)…and I mean DRY! I applied it on this red, french twist design just 10-15 minutes before going to bed and woke to lovely smooth shiny nails, no bed sheet indentations or smudges. Another asset is the shine, it gives the same mirror like shine that a gel application has and it doesn't dull after drying like many top coats I've tried before.
Seche advise to re-coat the nails every other day for maximum beneficial effect. This photo was taken 5 days after application and I did not re-apply purposely to see what would happen to a client that did not want to purchase SECHE VITE™ themselves. In those 5 days I did my normal household chores, shopped, filed nails, soaked nails off with acetone, bathed, washed my hair….all the things a normal week entails and more…Still no chips, cracks, yellowing or reduction in shine. There is a slight wear on the free edge but it is very slight and even and I think this could have been avoided with the recommended re-application and capping. It certainly hasn't hindered my design at all. My natural nails felt stronger with it on too, this protective layer is like your very own nail bodyguard!
Seche do advise to use their basecoat on their website. I used 'Star Nails basecoat original' and 'Diva red polish by Attitude'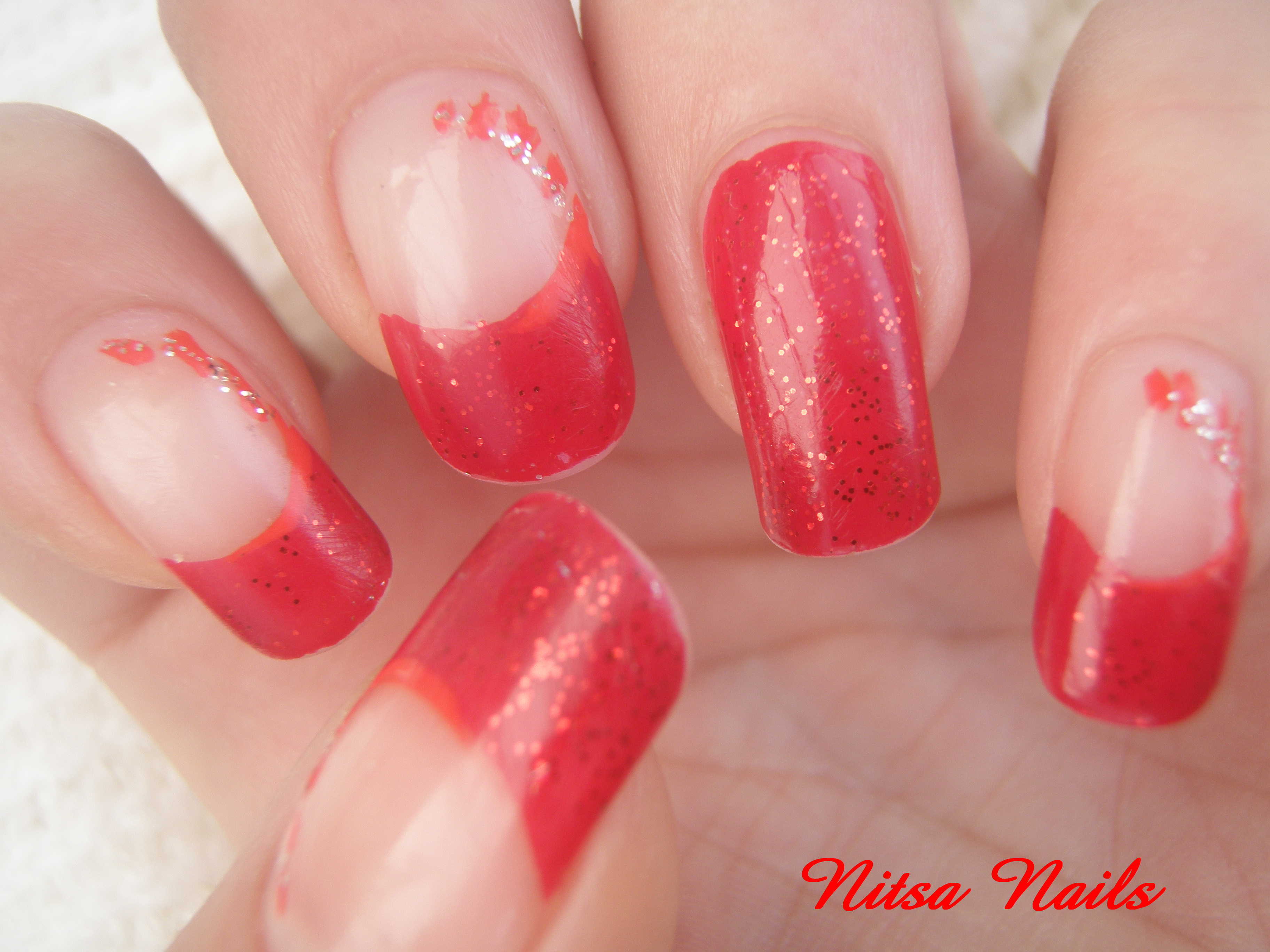 One of the negative remarks I read about this product when researching, was that it thickens in the bottle after a few weeks. I suppose this could be disappointing for someone who paints their nails once a week but for nail techs with plenty of clients I don't think this would be a problem as you would probably finish the bottle before it had chance to thicken but I am guessing at this stage as the product is new to me personally…Time will tell!
I love it and would definitely recommend it!
"As chosen by the newly-wed Duchess of Cambridge for her wedding day Seche Vite Dry Fast Top Coat is acknowledged as the world's finest top coat. Its patented formula allows it to penetrate through the nail lacquer to the base coat forming a single solid coating over the nail plate for a much more durable finish which is guaranteed not to yellow. Seche Vite is unmatched as a top coat leaving the nail silky feeling, stronger, more durable, absolutely will not chip and creates the highest gloss of any product on the market today" – Google quote