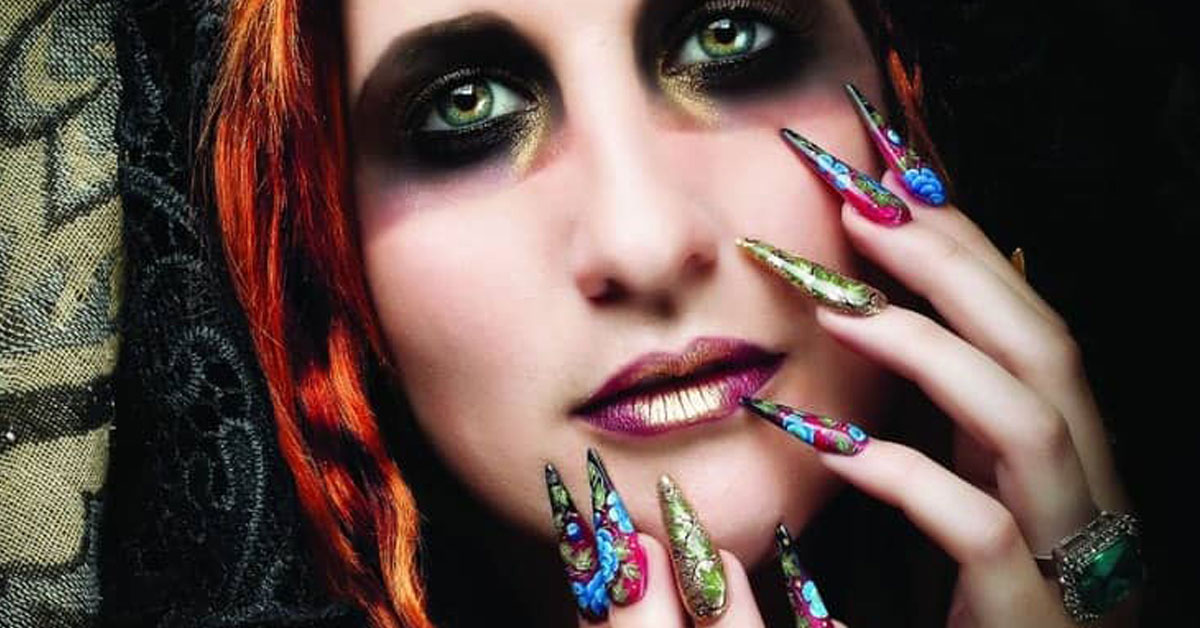 What were you doing before training with Next Step: 
Before I decided to train with Next Step, I was working in a Luxury Tour Operators as Receptionist, Sales Support and various other roles all rolled into one. It was a full on, fast paced role  ensuring that nothing went wrong for clients and that all paperwork was in order ready for their departure. I've been married for 6 years and he has supported me emotionally and physically throughout my training (and even donated his hands when I needed to practise) and along with nails, I also have a degree in Fine Art so when I have some spare time, I draw or paint. I also sing and am part of a book group which meets up about once a month for a catch up/gossip and also briefly touch on the book we just read!
What helped you choose Next Step: 
I came into the nail business a little later in life but when I realised I wanted to do nails, I was in no position to go off to college either full or part time as I was in a full time job and there was no way I could afford to not work whilst I went off to train, so I looked at "at home" courses. I looked at a few places on the internet and established that although the idea of training at home had it's advantages, I knew that home life would interrupt my study and eventually I just wouldn't be able to dedicate the time needed to work through the course at home. Then I found Next Step! Being able to do an intense training course for the full nail technician course in a week that was somewhere local to me that I could drive to each day. I knew that I only needed to take a week off work and I would be surrounded by like minded people and get immersed in the world of nails whilst also knowing that I was still paying the bills. 
Knowing that the course was accredited so that insurance wasn't going to be an issue once qualified, was incredibly important to me. I wouldn't have done the course if it wasn't accredited by companies such as BABTAC and the Beauty Guild as this ensures that you have the peace of mind that what you are being taught is correct. Being able to go away and practise for 6-8 weeks before your final exam day was also advantage. It was great to be able to practise on friends and family and I'm sure they were happy to get their nails done! And you knew there and then on exam day whether you had passed of failed. 
What you doing now: 
I am still working full time in a non nail tech role as this is my main source of income however, I have set up a mobile business and so in the evenings after work, I drive to peoples houses and give them a wonderful relaxing nail treatment in the comfort of their own home (normally even more relaxing as they have out the children to bed so they don't have to worry about them) Since I qualified from the full nail technician course in 2013, I went on to complete Next Steps other nail courses, Nail Art, Advanced Nail Art (Ie One Stroke and 3D), Sculpting and finally Pedicures in 2015. With these I have been able to offer clients the opportunity of having unique, hand drawn nail art. I mainly perform One Stroke and the highest compliment someone has said to me is that they thought the flowers on my own nails were stickers. 
I've used my One Stroke skills and entered the 2015 Scratch Awards for One Stroke Artist of the Year. I was shortlisted as a finalist and went to London for the exam day and then for the awards ceremony. Although I didn't win, there are only 5 finalists in each category, so I know that I was in the top 5 in the UK for that technique.
In 2016, I entered the Scratch Magazine Great Scratch Shoot Out.  I collaborated with a great friend who modelled for me and her husband who took the photographs. Again I used One Stroke on the nail designs in the photographs. This was an international competition and when I went along to see the winners announced, I was overwhelmed when they called my name for 3rd place!
Also in 2016, Scratch Magazine approached me and asked me to hep with (along with other nail techs) to come up with nail designs with a Christmas theme and I was asked to use One Stroke. I did what they asked and in this December's issue of the magazine, you can see my designs along with a step by step. Out of all of the wonderful nail technicians out there, I feel very lucky to have been asked to feature along with the other extremely talented techs featured.
What did you enjoy about the training:
I loved the fact that it was a full on intense course filled into a week or day courses. It fitted i well with my lifestyle both working and social. The educators on all my training courses were brilliant. They explained what you needed to do and were very patient should you need to have a little extra time to get the technique right. Having access to the tutorial videos and workbook before training days was a great advantage as you could follow them and if you had a questions you could go in prepared and know what you needed to ask. It also took a little of the nerves away as you knew what you were going into on the day of the course. Working on the other students was great as that meant you didn't need to take a friend with you as a model. It also allowed you to experience the treatment if you had never had one done before and find out what felt comfortable to you and therefore what you client might like which I found incredibly helpful.
Why did you decided to join the industry:
I never really thought about nails and beauty until I was half way through University and going out became something that you dressed up for and made an effort with. Once I graduated, I played around with normal polish and did friends and family but never really thought about taking it more seriously until a couple of years later. I started doing designs and little patterns on my friends nails and they all really liked them. I had had gel extensions once before and really liked the look and wanted to be able to offer that to people as well. It was also a way to run my own little business, get a little extra money in and make use of my fine art degree as I wasn't utilising my art skills at the time and I wanted to have some sort of outlet for them. It was important for me to be able to give these treatments knowing that I had had the proper training, insurance and qualifications and not just copied people from You Tube videos
How did next step support you:
Next Step have been great from start to now! I wont say finish as you can never finish training in this industry. Even though its been a little while since I took my last course with them, they still remember me and give me advice and support when I have questions about a client or a technique. They have even offered my luck when I went off to do some pamper evenings and vintage fairs. You just know that Victoria and the whole team are behind you and rooting for you in anything that you do. My course material and videos and certificates are still on my student portal after these years so I can still go back to them if I need to remember the best way to perform a foot massage in a pedicure. Facebook messenger is a perfect tool as you can send pictures and messages to make what you are trying to explain a lot easier and the response time is great and exactly what you need to hear.  
What stood out about the training
What stood out for me was being able to pick the location that you wanted to train at. Somewhere local for me was important. The friendly smile from the educator immediately put you at ease when you walked through the door, even if you are a bag of nerves. All of the courses were clearly set out the steps are easy to follow plus there was lots of time to practise the techniques you are learning.
How likely would you be to recommend next step
I would totally recommend Next Step to anyone looking to get into the beauty industry. 
Main reasons are - 
The friendly team with their ongoing support, before, during and after your training.
Various locations to choose from making it easier to go on the course you really want.
Online access to your course books and demo videos in advance of your course start date.
Whats next in your development:
My next step is to continue learning and perfecting my techniques and grow my little business and get the word put in the local area. 
I also plan to enter more competitions with my nail art work. Not just One Stroke but possibly more realistic styles. 
What did you enjoy about the trainer
The trainers on all my courses were great. They were approachable and friendly from the moment you walked into the room. They were professionally dressed (which is key to me as you are not only representing yourself but also the company you work for) and set a perfect example of what you should be wearing. Nothing was ever a stupid question and everything was demonstrated and explained at a perfect learning pace. 
---

---
---