Quick fix to an Instant Tan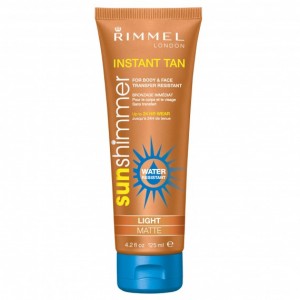 Ok so I thought I would do you a blog on the one thing that is a MUST in my beauty bag –
The Rimmel Instant Tan
I honestly would be lost without this to hand, when I need a boost and a bit of colour I will always end up grabbing this. Its perfect! So if you are anything like me, I love to have a tan or at least a bit of glow. I find that in the winter months when its cold and miserable outside with no sign of any sun rays anywhere I look pasty and this tends to have an effect on the way I feel. I feel sluggish and down in the dumps, wishing that the summer would hurry up… well fear not ladies, I cant give you sunshine but you can get a natural instant tan from the squeeze of a bottle!! Honestly its true… and here's how –
The Rimmel Sun Shimmer Instant Tan!!
It comes in a light, medium/dark choice, I tend to use the light for a natural glow in the cold wintery months when you don't want to be looking too dark as there is no sunshine around at all so you would look a little over the top, unless you like that look of course and then in which case – go for it. The light just takes of the glow off my pale skin so that I'm not making people wear their sunnys with my skin glowing so white! Hehe.. The darker one I use for if I'm going out for the night and haven't had time to fake it up the night before.. This is so quick and easy and you literally have a tan in minutes. I use a mitt to apply this as it then goes on streak free and you can get a real even coverage. (You can get these quite cheap and definitely worth having it to apply this product)
I have used this for ages now and was so happy when they introduced the water resistant one!! This is a god send as not only do you not have to worry about it raining which we unfortunately seem to get a lot of in England but you can also be worry free of being out in a crowded place on a night out and a drink getting spilt on your lovely tanned looking skin. Believe me ladies go for the water resistant one, as I have gone out before with the original, instant tan, left the house with a nice even tan, ended up going home with massive water streaks where a drink had been spilt over my arm – NOT a good look!!
There are so many different types of the sun shimmer range which Rimmel offer so if you are after a quick easy and cheap natural looking tan you can get in a squeeze then this is the product try!!
Here's hoping for a good summer so that we can all get our tan on!!  😀
Enjoy, Hayley xx