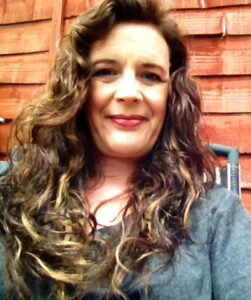 Lorane Tilbrook completed our nail technician course in Ipswich and qualified on the 24th October 2012. Since gaining accreditation, Lorane has gone on to build a thriving mobile nail business and a loyal client base. Lorane recently got in contact with us, telling us how well things were going and we are very proud of what has been achieved in such a short space of time. We are delighted to provide Lorane's story below.
—
What is your background:
I am a single person, in the Ipswich area with no children just two energetic border collie dogs.
What were you doing prior to completing the course:
Prior to completing the complete nail technicians course I worked in two of our local post offices.
Why did you want to do a course and what were you thinking of doing with it?:
I was hoping to run a mobile nail business on a part time basics, along side one of the post offices that I was working at.  But very quickly I lost both of the post office jobs because one of them was sold and the other the Sub Post mistress wanted to run the post office herself.
How did you find Next Step Beauty and what made you choose them?:
I found next step beauty on the internet, they were my second choice only because I had already booked a course with Capital Beauty,  but they cancel the course two weeks before the course was about to be run, So I had to search for another company.  I found Next Step Beauty online only to find out that they were running a Complete Nail Technicians course on the same week as the other course, so I booked up.
Did Next Step Beauty support you and if so what resources did you use?:
I have used the Students online learning guide and videos
When and where did you pass your course?:
The course I attend was in Ipswich at the Fen Valley Golf Course, and I past the course on the 24th October 2012
What are you doing with your qualification now?:
I am now running a full time mobile nail technician business, which has grown from strength to strength in the first year.  I only wished that I did the course a long time ago, as I am now doing a job I really love and I am my own boss. Well my customers are my bosses, but without this course I would be doing a dead end job that I am not happy in.
—
To find out more about Lorane and her business (Tip Top Nails) visit: www.lorane-tiptopnails.co.uk or https://www.facebook.com/Tiptopnailsipswich