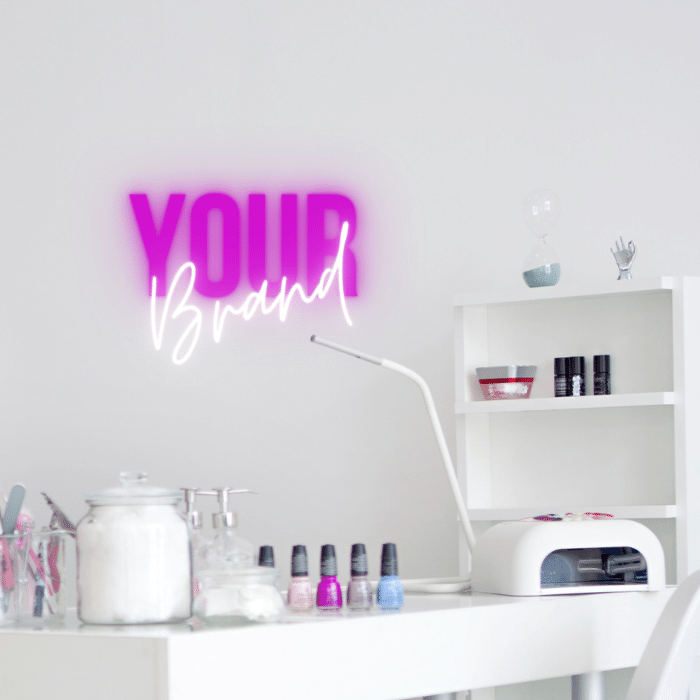 One of the most exciting and crucial steps in starting your own nail and beauty business is choosing the perfect name. Your business name represents your brand, captures your essence, and leaves a lasting impression on your clients. In this blog post, we'll guide you through a creative journey to help you generate unique and captivating name ideas for your nail and beauty business. Let's ignite your imagination and find the perfect name that truly reflects who you are!
Reflect on Your Brand Identity:
Start by reflecting on your brand identity and the image you want to portray. Are you aiming for a modern and trendy vibe, a luxurious and elegant experience, or a fun and playful atmosphere? Consider your target audience and the emotions you want your business name to evoke.
Think about the specific characteristics that make your business unique. Are you known for your eco-friendly products, your commitment to using organic ingredients, or your specialization in a particular type of nail or beauty service? Use these aspects to shape your brand identity and inform your name choices.
Examples:
Blissful Nails & Beauty: For a business that aims to create a serene and relaxing experience.
Chic & Polished: A name that conveys a sense of sophistication and attention to detail.
Radiant Bliss Beauty Studio: This name conveys a sense of glowing beauty and a tranquil experience.
Polished Pampering Salon: Reflecting an emphasis on meticulous attention to detail and indulgent pampering services.
Chic Serenity Nails & Spa: Evoking a combination of elegance, style, and a serene atmosphere.
Brainstorm Keywords:
Create a list of keywords that relate to your nail and beauty business. Think about the services you offer, the style or atmosphere you want to create, and the unique elements that set you apart. For example, words like "glam," "polished," "pamper," "chic," or "serene" could be potential keywords.
Use tools such as Thesaurus.com to find new variations or additional words with similar meanings.
Examples:
Radiant
Luxe
Enchant
Serenity
Revive
Glamour
Chic
Blossom
Graceful
Play with Word Combinations:
Combine different keywords and experiment with various word combinations. Mix and match words that represent your brand identity and resonate with your target audience. For instance, "Glamourous Nails," "Polish & Pamper," or "Chic & Serene Beauty."
Examples:
Radiant Bliss Beauty Studio
Polished Pampering Salon
Chic Serenity Nails & Spa
Seek Inspiration:
Look for inspiration from different sources. Browse through beauty magazines, visit nail salons, and explore social media platforms to see what names are popular and what resonates with you. However, remember to stay unique and true to your brand.
You can also explore online platforms like Pinterest.co.uk, where you'll find a treasure trove of creative ideas and inspiration. Create a mood board with images, colour palettes, and typography styles that align with your brand vision.
Embrace Creativity:
Think outside the box and consider wordplay, alliteration, or puns that relate to the nail and beauty industry. Play with rhymes or create memorable combinations. For example, "Nailed It! Beauty Bar" or "Beauty in Bloom."
Examples:
Polish & Pose
The Nail Artistry
Beauty Boudoir
Nail Envy
Beauty and the Bliss
Check Availability:
Once you have a list of potential names, it's important to ensure they are available. Conduct a search to check if the domain name and social media handles are available for the names you shortlisted. You want to create consistency across all your online platforms.
You can use domain name registration platforms like GoDaddy.com or Namecheap.com to check domain name availability. Similarly, check social media platforms like Facebook.com, Instagram.com, and Twitter.com to ensure the handles are not already taken.
Another handy little tool which will help you check various services with a single click is NameCheckr.com
Test the Name:
Once you've narrowed down your options, test the name with a small focus group or trusted friends. Get their feedback and see how the name resonates with them. Remember, it's essential to have a name that appeals to your target audience.
You can also create a survey using tools like SurveyMonkey.com or Google Forms and share it with your network or target audience to gather opinions and insights.
Trademark Considerations:
Before finalizing your name, it's advisable to do a trademark search to ensure it's not already trademarked or infringing on existing brands. Protecting your business and brand is crucial for long-term success.
Use trademark and business search platforms like the European Union Intellectual Property Office (EUIPO) and Companies House to check for existing trademarks and registered business names.
Timeless Appeal:
While it's tempting to choose a trendy or fashionable name, consider the long-term appeal of your chosen name. Trends come and go, but a timeless name will withstand the test of time and remain relevant.
Think about established nail and beauty businesses that have stood the test of time and consider what elements make their names enduring. Strive for a balance between uniqueness and timelessness.
A name such as "Chic Eighties" for example would have been perfectly suitable between the years 1980 and 1989, but would not be relevant in our current times. Pinning your brand against a technology, UV sunbeds, for example, would also not be recommended as this would not allow you to evolve your services as public opinions or demand shifts. 
Finalize and Celebrate:
Once you've found the perfect name that captures the essence of your nail and beauty business, it's time to celebrate! Share the exciting news with friends, family, and future clients. Your business name is the foundation of your brand, and it's an important milestone in your entrepreneurial journey.
Choosing the perfect name for your nail and beauty business is an exhilarating process that allows you to express your brand's identity and connect with your target audience. By reflecting on your brand identity, brainstorming keywords, seeking inspiration, embracing creativity, and ensuring availability, you can uncover a name that truly reflects your unique offerings and captivates your clients. So, let your imagination soar, have fun with the process, and get ready to make your mark in the nail and beauty industry with a name that shines!
Remember, your business name is just the beginning. Combine it with exceptional services, a remarkable customer experience, and a strong marketing strategy to build a thriving nail and beauty business that stands out from the competition. Happy naming!
---

---
---