Why everyone should experience a manicure treatment.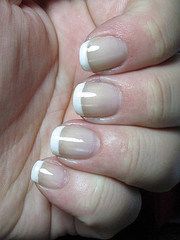 A manicure treatment is an enjoyable experience that is still a popular treatment with the beauty industry. Many people feel that to have a manicure your natural nails need to be in perfect condition, this is not true in fact it's the opposite, you need to have a manicure to get your nails in good condition. Prevention is better than a cure!
Reasons to have a manicure.
Improve nail condition. All the creams used in the manicure will help hydrate your hands, arms & nails. Perfect for dry flaky, soft nails, it will help your nails look and feel better, be stronger and healthier.
Growth. The cuticle work ,buffing and massage will help increase the blood circulation to your matrix, which in turn will help your nails be stronger and will encourage them to grow!
Exfoliate. Indulge in a luxury manicure, its a little longer than your standard manicure but worth it. The treatment will include a fab hand exfoliation, this will remove dead skin cells, help with dry cracking hands and is perfect if your skin is very rough, it will feel silky soft after.
Indulge in colour. Pick between pink, French, glitter, red, gold the list keeps going, great looking nails in the colour of your choice, great as a pamper, abit of self-confidence while feeling polished!
And RELAX! A manicure is such a relaxing treatment, how often do we all run around in our hectic lives. Unwind sit back for a hour and be massaged, buffed, exfoliated and polished up, well worth £20!