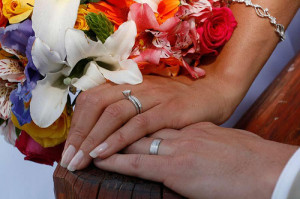 While most of us wants to get married (or have already gotten married) in style, nothing beats those who have influence and safe to say, money to get married that stylish.  While it's not really related to how your marriage will be, but there's something about celebrity weddings we can't get enough of.  So who's on the list?  Get ready to see carriages, stars, and festivals.
1. Prince William and Kate Middleton's Wedding
Who wouldn't remember this modern royal marriage? It's not easy to beat, though.  You have to be a royal to have this perfect wedding in Westminster Abbey, broadcasted live on global television.  A total £23 million spent on the wedding itself, with a whopping £524,000,000 spent on flowers.  With the Duchess of Cambridge dressed in a gorgeous wedding gown and the future King on its traditional royal costume, surely this is a wedding to be remembered.  Completing the almost fairytale wedding is a horse-drawn carriage which was used to go from Westminster Abbey to Buckingham Palace, and afterwards, going for their first kiss on the palace's balcony.
2. Arun Nayar and Liz Hurley
Second on the list is the wedding of model/actress Elizabeth Hurley and Indian Businessman Arun Nayer in 2007.  While their marriage ended in acrimony, their wedding still is considered memorable.  And why not?  It became a festival that lasted for eight days! And not only that, it crossed borders by having two weddings on the duration of that period, on different continents.  First is in Sudeley Castle in Gloucestershire, UK to honor Hurley's hometown and in Umaid Bhawan Palace in Jodhpur, India for Nayer's.  300 guests were invited throughout and they managed to spend £1.6 million on both weddings.  But nevertheless, they've got the best of both worlds on their wedding day (or days in their case).  Sadly, a beautiful wedding wasn't able to save their marriage and the couple split just three years later.
3. Paul McCartney and Heather Mills 
You're a member of the greatest band in history so you really deserve to get wed in style.  And that's exactly what Sir Paul McCartney did when he married then model and activist Heather Mills. Their wedding was worth £2.7 million where McCartney rented out Castle Leslie in County Monaghan, Ireland.  After which, guests were treated to a luxury yacht ride.  This one, as well, didn't end up in a happy ever after, as their story ended in a highly-publicized divorce case, with lots of problems even post-divorce.  But what can I say?  They still got married in style and it was still a memorable event.
And so it shows that weddings don't typically state what the outcome of the marriage would be.  But it does show a side of the couple, that for that moment, during their wedding preparations, they had this mutual feelings for one another, and that they wanted to make their weddings stylish and special for them as well as their guests to remember.  And so do you.  So, are you up to going for a stylish wedding?
Sylvia Amoako is a photographer who has been working for Bridesire for many years. Sylvia has taken thousands of pictures of the beautiful dresses designed and tailored by Bridesire.