Study Method
You will be sent login details (via email) for you to access our Award Winning Online Education Platform. This houses your tutorial videos, eBooks and more. Your course can be completed on desktops, tablet or your mobile enabling you to learn anywhere.
Each course is structured into modules and units. Each unit has a video to watch, a clearly marked section of the eBook to read as well as and a set of multiple choice questions. Once you have completed the questions and get the desired pass mark the next unit will open for you offering a structure and guided way of learning. You can take the multiple choice questions as many times as you wish with full support from your tutor where needed. This guided way of learning ensures you gain and then retain the expert knowledge.
After you have completed all of the units in a module, that module will be marked as complete and the next one will open for you.
Assessment
Once you've completed the all important theory you will provide your tutor with case studies allowing your tutor to assess and provide appropriate feedback of your work. Similar to the theory, if you are required to upload a new set of images your tutor will work with you to ensure you achieve the standard required to earn your accredited certificate.
Course Outcome
On successful completion of the course, you are awarded with diploma certificates which are available to download and stored for you. You have lifetime access to the portal so you can return at anytime to utilise the tutorials, eBooks and downloads as a reference. This course is accredited by several association which are listed above.
At this point you are qualified and able to apply for professional insurance through our partners, meaning you can legally offer services to clients.
We have a kit available to purchase for this course.
Included in the kit
Choose to add on the kit needed to complete the course. Click here to view our kits. If you add on the kit, you will receive: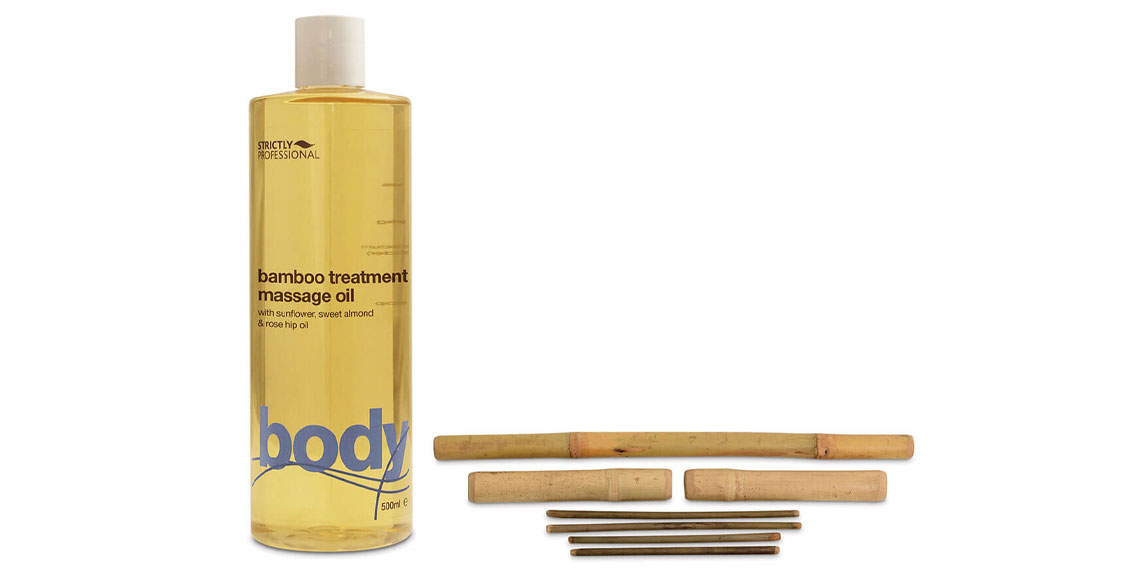 Kit Contents

Bamboo massage starter kit – perfect for our accredited bamboo massage online training
Sustainable, similar to deep tissue massage – soothes and relax clients
Lightweight, adaptable and effective canes – therapists can perform comprehensive treatments
Gliding sunflower, sweet almond and rose hip oil – hydrating, lubricating and anti-inflammatory

Bamboo massage starter kit
Indulge your clients with the calming touch of nature through bamboo massage. Comparable to deep tissue massage, the popular treatment uses sustainable materials to soothe and relax. Combine this kit with the accredited bamboo massage online training available with The Academy.

Lightweight, effective canes
Individually crafted by Italian artisans, the equipment balances adaptable flexibility with an effective, hard silica that covers the outer cell walls. Therapists can enjoy both the lightweight ease and useful variety of cane sizes for maximum efficacy.

Nourishing oil for smooth movements
The Strictly Professional bamboo massage oil has been developed specifically for use with bamboo cane. The oil provides a light lubricant allowing the canes to glide freely over the skin. Sunflower oil is a great moisturiser and sweet almond keeps the skin supple and hydrated whilst rose hip oil is known to be a powerful anti-inflammatory.