Study Method
You will be sent login details (via email) for you to access our Award Winning Online Education Platform. This houses your tutorial videos, eBooks and more. Your course can be completed on desktops, tablet or your mobile enabling you to learn anywhere.
Each course is structured into modules and units. Each unit has a video to watch, a clearly marked section of the eBook to read as well as and a set of multiple choice questions. Once you have completed the questions and get the desired pass mark the next unit will open for you offering a structure and guided way of learning. You can take the multiple choice questions as many times as you wish with full support from your tutor where needed. This guided way of learning ensures you gain and then retain the expert knowledge.
After you have completed all of the units in a module, that module will be marked as complete and the next one will open for you.
Assessment
Once you've completed the all important theory you will provide your tutor with case studies allowing your tutor to assess and provide appropriate feedback of your work. Similar to the theory, if you are required to upload a new set of images your tutor will work with you to ensure you achieve the standard required to earn your accredited certificate.
Course Outcome
On successful completion of the course, you are awarded with diploma certificates which are available to download and stored for you. You have lifetime access to the portal so you can return at anytime to utilise the tutorials, eBooks and downloads as a reference. This course is accredited by several association which are listed above.
At this point you are qualified and able to apply for professional insurance through our partners, meaning you can legally offer services to clients.
We have a kit available to purchase for this course.
Included in the kit
Choose to add on the kit needed to complete the course. Click here to view our kits. If you add on the kit, you will receive: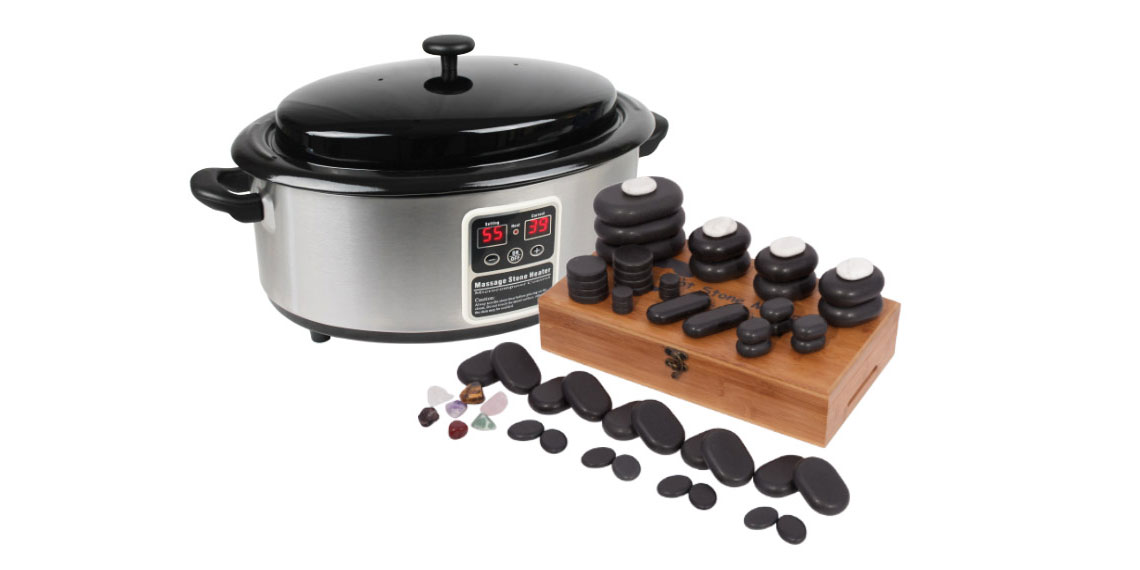 Kit Contents
What is Hot Stone and Heater Kit?

We've put together our superior Hot Stone Set and Digital Stone Heater to give you a great price. Featuring the essentials to provide a relaxing and reviving treatment.

This fully automated Stone Heater comes with a digital thermostat system. Easy to use, allowing you to adjust and set the unit at your desired temperature. Supplied with a spoon for safety stone removal.
What can I use Hot Stone and Heater Kit for?

The Hot Stone and Heater Kit will allow for contemporary and effective massage techniques that have been in use for many years. The smooth warm stones allow the therapist to effectively massage the body, allowing the gentle heat to penetrate the skin allowing the patient to relax quickly and effectively.
What does Hot Stone and Heater Kit do?

This is the perfect tool to create feelings of wellbeing, harmony, and balance for your patients and assists in improving the quality of sleep, relieves the body, and removes migraine, headaches and muscle pain.
Key Features:

6 Quart Digital Stone Heater
Fully automated Stone Heater with a digital thermostat system.
Easy to use, allowing you to adjust and set the unit at your desired temperature.
Suitable for any type of hot stones, including our 60 piece set.
Stainless steel outer with lightweight aluminium lid.
Supplied with a spoon to safely remove stones from heater.
Dimensions: 38 x 28 x 18cm (15" x 11" x 7")
1-year warranty on stone heater

60 Piece Hot Stone Set

Basalt stone formed millions of years ago during volcanic eruptions, the stone contains magnetic or titanic iron which retains heat, the stones appear grey or greenish when dry and turn black when wet. Our polished stones are carved from the plate to give a symmetrical, smooth and uniform shape unlike basalt pebbles.

Days are spent caring and polishing each stone, ensuring the high quality polished finish and deep natural colouring. To maintain the care and natural elements of the stones, all the stones are packed in a natural handmade bamboo box.
60 Piece Hot Stone Set includes:

3 x-large flat ovular, 6 large flat ovular, 10 medium flat ovular, 6 small flat ovular, 8 small round, 8 toe stone, 6 small circular facial, 4 small ovular white marble, 2 miniature pressure/deep tissue, 7 chakra gems (green jade, smokey-quartz, clear-quartz, brown t eye, purple amethyst, pink-quartz & red carnelian)