NVQ Level 2 Nail Services
Our VTCT NVQ Level 2 Certificate In Nail Technology is ideal for people wanting to start their career as a nail technician, and also perfect for experienced technicians who want to gain a nationally and internationally recognised qualification. This course is a fast track allowing you to learn in your own time, at your own pace and around your commitments. You will have 3 days of practical training at one of our national training locations and then are required to complete 2 days of assessments at our head office in order to gain your NVQ qualification.
What are the entry requirements?
You are not required to hold any previous qualification to complete this course making it ideal for beginners.
What will I study?
Manicure
Pedicure
Gel nail extensions
Acrylic nail extensions
Additionally, you will learn all health and safety, relevant anatomy and physiology, and client care and communication.
How will I be taught and assessed?
You'll be taught by our expert team of Nail Technology lecturers. Assessments take place through multiple choice exams, verbal questioning and practical skills assessments.
Equipment and Resources
Whilst you are with us for practical tuition and assessments, all products and equipment will be provided for you. You may require a kit for home/client use which can be purchased from us or you are welcome to obtain elsewhere.
Progression and Job Opportunities
On successful completion on this NVQ nail course, you will be qualified to work in a salon, spa or cruise ship as a qualified nail technician. You can progress on to our additional courses if you wish and we offer a range of further NVQ courses open to you.
We also offer progressive short courses so please do speak with your tutor or give us a call to discuss your goals further.
How can I pay for my course?
We offer flexible, interest free, monthly instalment payments. Please contact us to find out more about this option.
(Please note due to a change in the address where we deliver the VTCT programme we are currently going through a re-approval process with VTCT which we expect to be completed by May 2019. We are therefore not accepting students until this process is completed. For more detail on this please do contact us)
Start your own business
There are 340 million client visits across the beauty industry each year (six per person per year), with the average household spend on services of £161. It's now your time to start your business!
Earn extra money
Earn up to £25 per hour as a qualified therapist (that's a potential earning of £1000 a week!) If your looking to make some extra money this is a great way to create residual income.
International Qualification
If you want a qualification which will allow you to work in spa's, on cruise ships or internationally then this NVQ Level 2 Nail Services is perfect for you.
Learn around commitments
Learning around commitments can be hard. That's why our NVQ courses are ideal as you can learn in your own time and at your own pace with limited time spent on assesments and practical training.
You will attend practical training in one of our national training locations where you will learn all of your practical knowledge and gain hands on experience of full practical routines and procedures with the support of our professional and qualified tutors.
You will then practice and study alongside building your portfolio, completing practical work at home and completing the online exam papers.
Once the online work has been completed you can book onto one of our NVQ assessments at our head office for completion of your NVQ qualification.
Assessment days run from 9 am till 6 pm and consist of both practical and written assessments. You must be in full uniform (tunic) and present yourself as a professional at all times. Products will be provided on the training and assessment days.
Once you have completed the above you will be award with your NVQ Certificate which is issued by VTCT the awarding body.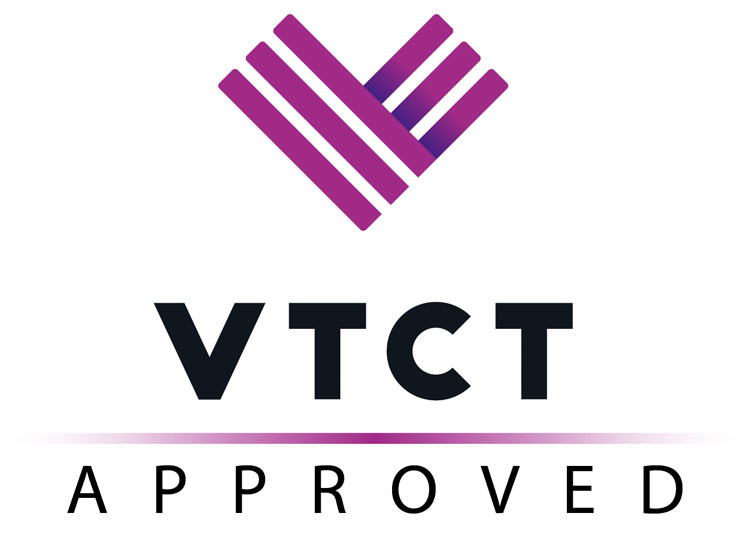 Our NVQ Level 2 Nail Services will allow you to achieve your own NVQ Certificate issued directly from VTCT the awarding body.
Enrol now and achieve a certified new skill
Proudly share your new skill with employers, friends and colleagues
Start your own business with professional insurance
Work with an internationally recognised qualification
OPTION 1:
Buy Online
Buying your course is easy online!
Click the button below to make your purchase. Remember you get instant access, so start learning today!
OPTION 2:
Buy via Telephone
Call a member of our team to discuss your requirements and buy your course over the telephone. Simply call 0203 495 2838 now or request a callback