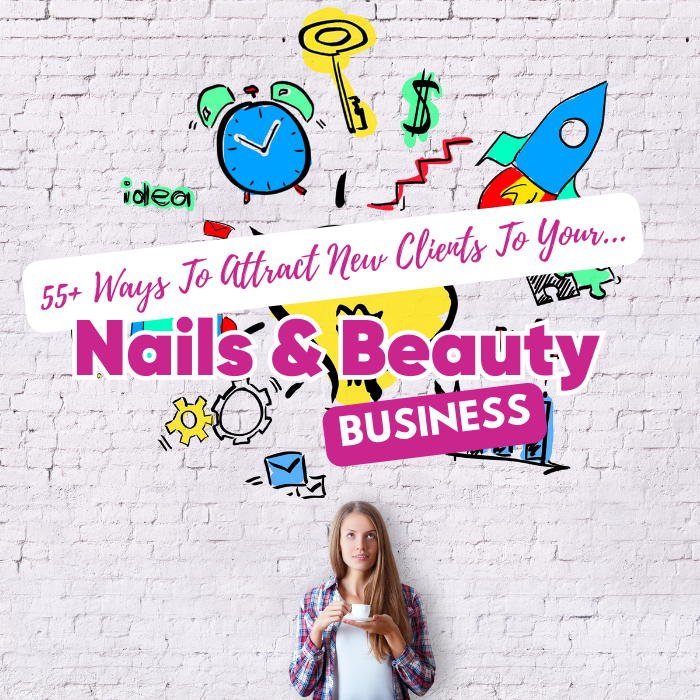 Create a professional website: Build a user-friendly website that showcases your services, portfolio, and contact information. Include high-quality images to attract potential clients.
Optimise your website for search engines: Implement search engine optimisation (SEO) techniques to improve your website's visibility in search results. Use relevant keywords in your website content and meta tags.
Start a blog: Share beauty tips, nail care advice, and industry trends on your blog to establish yourself as an expert and attract potential clients searching for information.
Offer online booking: Provide a convenient way for clients to book appointments directly through your website. Use booking software or integrate a booking widget.
Create a compelling social media presence: Maintain active profiles on platforms like Instagram, Facebook, and Pinterest. Share your work, engage with followers, and offer exclusive promotions.
Run targeted social media ads: Utilise paid advertising on platforms like Facebook and Instagram to reach a wider audience. Target specific demographics and geographic locations.
Collaborate with influencers: Partner with popular beauty influencers or local bloggers to showcase your services and gain exposure to their followers.
Share before-and-after photos: Highlight your work by sharing stunning transformation photos on social media. Encourage clients to share their own photos and tag your business.
Develop a referral programme: Incentivise existing clients to refer new customers by offering discounts or free services. Word-of-mouth referrals can be a powerful marketing tool.
Attend beauty trade shows: Participate in industry events to network with potential clients and other professionals. Distribute business cards and promotional materials.
Offer a loyalty programme: Reward repeat customers with discounts, free services, or exclusive perks. This will encourage customer loyalty and increase the likelihood of referrals.
Collaborate with local businesses: Partner with hair salons or spa businesses to cross-promote each other's services. Offer joint packages or referral incentives.
Sponsor local events: Support community events, fashion shows, or charity fundraisers to increase your brand visibility. Display your logo and offer samples or vouchers for attendees.
Host educational workshops: Organise workshops or classes where you share your expertise with attendees. This establishes credibility and attracts potential clients interested in learning new skills.
Offer online tutorials: Create video tutorials or live streams where you demonstrate nail art techniques or beauty tips. Share these tutorials on your website and social media channels.
Provide exceptional customer service: Deliver a positive and memorable experience for every client. Encourage them to leave reviews and share their experience with others.
Offer introductory discounts: Attract new clients by providing discounted rates or special offers for first-time visitors. This helps overcome any hesitation they may have about trying your services.
Participate in local business directories: List your business in online directories like Google My Business, Yelp, and Yellow Pages. This improves your online visibility and local search rankings.
Run a competition or giveaway: Host a social media competition or giveaway to generate buzz and attract new followers. Offer a free service or a gift basket as a prize.
Advertise in local publications: Place advertisements in local newspapers, magazines, or community newsletters to reach a targeted local audience.
Collaborate with wedding planners: Network with wedding planners and offer your services for bridal parties. Weddings are a great opportunity to attract new clients who may become regular customers.
Create a YouTube channel: Share video tutorials, product reviews, and behind-the-scenes glimpses of your business. Engage with viewers and promote your channel on other platforms.
Offer package deals: Bundle popular services together at a discounted price. This encourages clients to try multiple services and increases the perceived value.
Respond to online reviews: Monitor review platforms like Google, Yelp, and Facebook. Respond to both positive and negative reviews professionally and promptly.
Provide mobile services: Offer on-location services for weddings, corporate events, or private parties. Advertise your mobile services to attract new clients who value convenience.
Collaborate with local photographers: Partner with photographers for styled photoshoots. This allows you to showcase your work professionally and artistically.
Publish guest posts: Write guest blog posts for beauty and lifestyle websites. Include a bio and link back to your website to drive traffic and attract new clients.
Offer complimentary consultations: Provide free consultations to potential clients. Use this opportunity to understand their needs and recommend tailored services.
Join local business organisations: Become a member of local chambers of commerce or business associations. Attend networking events and build relationships with fellow entrepreneurs.
Utilise email marketing: Build an email list and send regular newsletters with updates, promotions, and beauty tips. Provide value to your subscribers to keep them engaged.
Collaborate with non-competing businesses: Partner with non-competing businesses like clothing boutiques or fitness studios. Offer joint promotions or display each other's marketing materials.
Offer seasonal promotions: Create special offers or themed packages for holidays, seasonal events, or special occasions. This encourages clients to try your services during specific periods.
Use geo-targeted online advertising: Utilise platforms like Google Ads to target potential clients within a specific radius of your business location. This increases the effectiveness of your marketing budget.
Create a customer loyalty app: Develop a mobile app that rewards clients for frequent visits, referrals, or purchases. Include features like appointment reminders and exclusive offers.
Host a charity event: Organise a charity event or donate a portion of your proceeds to a local cause. This generates positive PR and attracts socially conscious clients.
Write beauty articles for local newspapers: Contribute beauty-related articles to local newspapers or magazines. Establish yourself as a local expert and gain exposure to a wider audience.
Offer group discounts: Encourage clients to bring their friends by offering group discounts or special rates for parties of a certain size. This creates a fun and social atmosphere.
Sponsor local sports teams: Support local sports teams by sponsoring their uniforms or events. Your business name and logo will be displayed prominently, increasing brand awareness.
Participate in online forums: Join beauty-related online forums or social media groups and actively contribute to discussions. Offer helpful advice and engage with potential clients.
Create a professional business card: Design a visually appealing and informative business card to distribute at networking events, salons, or local businesses.
Write a beauty column for a local publication: Approach local newspapers or magazines to write a regular beauty column. This positions you as an authority in your field.
Collaborate with local fashion bloggers: Reach out to local fashion bloggers or influencers and offer them free services or discounts. In return, they can promote your business to their followers.
Offer add-on services: Provide additional services like hand massages, foot scrubs, or paraffin treatments to enhance the overall client experience.
Run flash sales: Create limited-time offers or flash sales to create a sense of urgency and attract new clients who want to take advantage of the special deals.
Utilise online marketplaces: List your services on online marketplaces like Treatwell, StyleSeat, or Booksy. These platforms connect you with potential clients searching for beauty services.
Sponsor beauty-related podcasts: Support beauty-related podcasts by becoming a sponsor. Your business will be mentioned and promoted during episodes, reaching a dedicated audience.
Host a themed beauty event: Organise a beauty-themed event like a nail art competition, a makeup workshop, or a beauty product launch. Promote the event through social media and local advertising.
Offer student discounts: Partner with local schools or universities to offer exclusive discounts to students. This helps you build a loyal customer base among the younger demographic.
Create a professional video portfolio: Produce high-quality videos showcasing your work and upload them to platforms like YouTube or Vimeo. Share these videos on your website and social media.
Attend bridal shows: Participate in bridal shows or wedding expos to showcase your services to engaged couples. Offer special discounts or packages tailored for weddings.
Collaborate with local salons: Partner with hair salons or spa businesses to cross-promote each other's services. Offer joint promotions or referral incentives.
Offer virtual consultations: In addition to in-person consultations, provide virtual consultations for clients who prefer to discuss their needs remotely.
Create a monthly subscription box: Develop a monthly subscription box filled with beauty products and samples. Include promotional materials to attract new clients to your business.
Host a charity auction: Organise a charity auction where clients can bid on exclusive beauty packages or services. Donate the proceeds to a local charity and generate positive publicity.
Create instructional ebooks: Write and sell instructional ebooks on nail care, beauty routines, or DIY beauty treatments. Include links to your website and services within the ebooks.
Provide VIP treatment: Offer premium packages or VIP memberships that come with exclusive benefits, personalised services, and priority booking.
Collaborate with wedding dress boutiques: Partner with wedding dress boutiques and offer special discounts or packages for brides-to-be who purchase their dresses from the boutique.
Create online tutorials on TikTok: Capitalise on the popularity of TikTok by creating short and engaging beauty tutorials. Use trending hashtags and encourage viewers to follow your account.
Participate in local radio interviews: Reach out to local radio stations and offer to provide expert advice on beauty topics or answer listener questions during interviews.
Host a beauty influencer event: Organise an event specifically for beauty influencers in your area. Offer free services, goodie bags, and networking opportunities to build relationships with influencers.
Attracting new clients to your nails and beauty business requires a multifaceted approach that combines online and offline marketing strategies. By implementing these 60+ techniques, you can increase your brand visibility, establish yourself as an industry expert, and ultimately attract a steady stream of new clients. Experiment with different methods, track your results, and adapt your marketing efforts to maximise your success in growing your business.
---

---
---