Bridal Hair and Makeup Course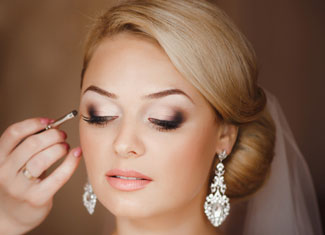 From as little as £0 per month.
We offer payment plans with equal payments split over 12 months. The price indicated is an example, rates will vary subject to credit. Select Payl8r at checkout.
Course Information
JUNE SAVINGS: BOOK NOW FROM ONLY £0 and SAVE 30%
This is a 2 in 1 combination course offering full tuition in both bridal hair and makeup

Perfect for complete beginners and if you want to work around children and other commitments. This course will give you the abillity to make some extra money and is fully accredited so you can start your own business or gain employment!
This complete beauty course includes a full foundation module giving you tuition on health and safety, business skills, marketing and promotion. No need for expensive follow on courses - SAVING YOU £300
Potential to Earn
Be Your Own Boss
The average spend on treatments is
£161
per household, per pear.
Maximise your potential to earn!
BUY OUR Bridal Hair and Makeup Course COURSE TODAY
and start your dream of
becoming your own boss
Why Wait? Start learning
TODAY!
Start your own business
There are 340 million client visits across the industry each year (six per person per year), with the average household spend on nail & beauty services of £161. It's now your time to start your business!
Earn extra money
Earn up to £25 per hour as a qualified therapist or nail technician (that's a potential earning of £1000 a week!) If your looking to make some extra money this is a great way to create residual income.
Be your own boss
Has it always been a dream of yours to start your own beauty or nail business working mobile, from home or even in a salon? Well now you can! Once you complete our courses you will achieve an Accredited Diploma Certificate allowing you to gain professional insurance.
Learn around commitments
Learning around commitments can be hard. Thats why with our unique learning approach you can learn in your own time, at your own pace with no time restrictions at all.
This Award Winning Bridal Hair and Makeup Course offers the most comprehensive course structure giving students everything they need to offer competent services to clients.
STEP 1: Book Your course
Booking your course is easy. Simply purchase online by clicking the "Buy Now" button or call our friendly learning advisors on 0203 495 2838 (Monday-Friday 9am - 5pm) - you can even request a callback or ask a question on facebook
Once you have made your booking you will get several emails from us (within around 10 minutes) including your course confirmation, access to the training portal (along with full details on how to use it) and of course your receipt of payment.
STEP 2: Online Training Material
As soon as you purchase your course you will have instant access to your very own online education portal which houses full demonstration tutorial video's (the same as what you will see in the classroom), detailed course eBooks and so much more allowing you to start learning straight away. We have designed our systems so its like having your tutor sit right next to you, guiding you through every aspect of the treatment and the best bit, you can watch it over and over again!
Access to your portal is UNLIMITED for LIFETIME and we are continually adding new industry videos as well as updating the content so you will get the very best and latest information FOREVER.
STEP 3: Attend Practical Training
At the time of buying your course, you will choose to attend practical training and one of our 30+ nationwide locations to further enforce what your have learnt and spend time with your tutor who will guide you to gaining your qualification.
At the start of the session your friendly tutor will introduce themselves, as well as the other students and put you at ease as soon as possible. During the practical training your tutor will demonstrate the full techniques and you will complete hands on practical procedures with guidance and support throughout. These sessions give you the ideal opportunity to go through any questions you may have using the knowledge of your experienced tutors. At the end of the session our aim is that you have learnt the skills required to put into practise as a professional as well as meeting likeminded people and form friendships.
STEP 4: Achieve Accreditation
On successful completion of the course you will be award with a Accredited Diploma Certificate allowing you to gain professional insurance. We know what a big moment this will be for you, having achieved your goals and dreams however for those who maybe require just a little more time, don't worry we simply ask you to return for further assessment at a later date (and a no further cost)
So its as simple as that! Start the Next Step to achieving your goals, creating the life you want and for fill your dreams by buying this course today.
ACCREDITED DIPLOMA CERTIFICATE
Buy our Bridal Hair and Makeup Course to achieve your own ACCREDITED diploma certificate allowing you to obtain professional insurance.
Enrol now and achieve an accredited new skill & certificate
Proudly share your new skill with employers, friends and colleagues
Start your own business with professional insurance
Our Bridal Hair and Makeup Course are avaliable in:
Norwich
OPTION 1:
Book Online
Making your booking is easy online! Click the button below to start making your booking online now. You will be able to select the location and date of your choice
OPTION 2:
Book via Telephone
Call a member of our team to discuss your requirements and make your booking over the telephone. Simply call 0203 495 2838 now or request a callback
Looking for Location & Dates
Use our simple course date and location checker to find the perfect course for you:
Important Information
We believe in continually supporting our students before, during and after each course and have invested heavily in a unique infrastructure which allows us to fully support students long after they have completed our courses and are pleased to be the Next Step in your career. Below is further information which is important to this course:
For the majority of our courses during the practical training day (and review if required) you will work with the college training stock, equipment and products so no kit is required to attend the courses however we do recommend you purchase a starter kit from us for home/client use. You can purchase a kit at anytime either online or by contacting us. Please check the exact requirements of the course in the Course Information section.
For some courses there maybe prerequisites such as courses you may have to complete prior. Please check the exact requirements of the course in the Course Information section.
All students work on one another during the practical training day as we believe it is important to not only carry out the treatment but also to experience the treatment yourself.
This course can be attended by any students of 16+ years.
Yes on successful completion of this course you will be award with an Accredited Diploma Certificate allowing you to gain professional insurance to work on the paying public.
All our educators have been hand picked, have vast industry experience as well as full teaching qualification ensure you have the very best education from your Next Step course.
** PLEASE NOTE: The location address stated in the dropdown above is our preferred venue however we do use several venues to hold our practical training. Confirmation of the address will be emailed to you 7 days prior to the event and maybe different from the address stated on this website due to availability.