Why Choose Next Step Beauty?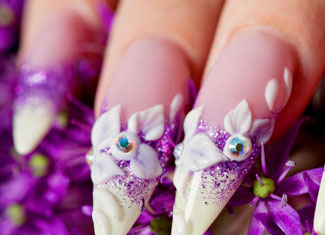 3D Acrylic Courses
3D Acrylic Courses – We are delighted to be able to provide this advanced 3d acrylic course
The 3d acrylic course will teach you how to create:
3 petaled flowers, leaves, bows, layered flowers, roses and lilies.
Each technique will be clearly demonstrated and you will then have the opportunity to complete each design with support from your tutor throughout.
You will be practically assessed throughout the day and your theory knowledge will be assessed with the completion of a quiz at the end of the day. On successful completion of this you will receive certification on the day using our instant certification service.
The course is definitely one not to be missed, a fantastic fun filled day, teaching you some of the most amazing techniques in the industry.
Earn extra by offering advanced nail art treatments to new and existing clients!
Buy my
COMBINED

3D Acrylic Courses

Buying your course and starting the Next Step in your career could not be easier. Simply follow the 3 steps below:

From

£125

+ VAT

BUY NOW
Step 1 - Choose my location below:
Select from over 30 locations nationwide
FROM
Next Step Beauty Recieved
1587 Reviews
Spread Your Payments
Did you know you can spread the payments of our courses, To qualify your total cost must be over £250. Spread the payments over 3 months with a 50% Deposit today; with the remaining split over the next 2 months!
Your 3D Acrylic Courses gives you access to:
1 day practical training with qualified tutors
Ongoing tutor support
All products supplied during practical day (you just need a 3d Acrylic Brush)
Buy your 3D Acrylic Courses today and have access to:
1 day practical training with qualified tutors
Ongoing tutor support
All products supplied during practical day (you just need a 3d Acrylic Brush)